GossipGirls.com is reporting that Natalie and her dog are back in New York City today. Along with some other interesting news…
Enjoying a final few days off before getting back to work, Natalie Portman was spotted out walking her pet pooch in the West Village on Wednesday (November 5).

Doing her best to thwart paparazzi efforts, the "Star Wars" sweetheart bought a newspaper and tried to block the photographers on-hand from taking her picture.

Meanwhile, Natalie is getting ready to start work on "Love and Other Impossible Pursuits," a romantic comedy about "a woman who discovers that the way to save her marriage is through her relationship with her 10 year-old stepson."

Also acting as the movie's executive producer, Natalie, along with co-stars Scott Cohen and Charlie Tahan, are to begin shooting in Manhattan on November 10th.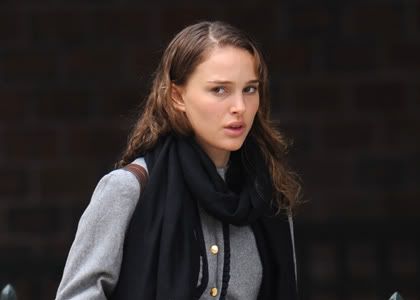 Click the pic for the gallery. Hopefully we can get some confirmation on that date.