Yesterday, we got some lovely shots from the Planetarium set in Paris, which can be found here. Luckily, user Aurore actually got a first hand experience on this new shoot. Here is a look at what went down. Congratulations on the awesome experience!
Here is an instagram shot of the event found at the user accroaupopcorn: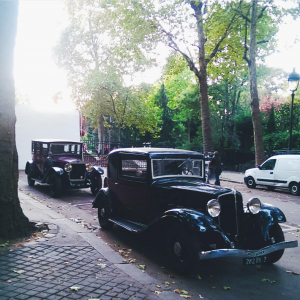 It was a completely ordinary day yesterday for me in Paris, I was at work when suddenly I received a text message from my boyfriend : "Natalie Portman just pass in front of us, she is on a set of a film" , they were in Parc Monceau, where I should join him and some friends for have a few drinks.

My boyfriend brought me to the set, I was quite surprised, because there was no security at all. It was in an alley just next to the park. The shooting was stopped at the moment, only technicians, so we had a good look at the set, there were a lot of 30s cars. I'm a very shy girl, but at this moment I surprised myself by asking when they will shoot. he told me they go to eat and after they will come back.

So we joined our friends, to finally have drinks and fun. We left the park at 9pm when it was closing. We came back to the part of the park where they were shooting. It was accessible by the streets. There were more people on the set but still no Natalie. I was a bit worried because a friend of mine asked an intern earlier and she told her she had finished her scenes. But thanks to my boyfriend who said no let's stay, it's the role of the intern to say this but I'm sure it's not true. So I asked a technician again when they will shoot, and he told me half an hour!

My boyfriend and I where starving so we decided to have a quick dinner near the area. When we went up on the street, we saw 4 or 5 trailers. We tried to see something but nothing. After our dinner we came back to the set, and finally, yes, finally I saw her, in the same clothes you posted yesterday, I really like her curly hair, red lipstick look. So it was 9.30pm at the moment. We were the only one to look at, that's why I thought the technician left us alone. Unfortunately, I was not able to take pictures, because it was too far for my poor camera. We stayed here until the end of the shooting, it was only Natalie's scenes, so she was in every take. It was a scene with a man, she was running behind him and finally she joined him to have a talk. At a moment, some technicians came near us, and apparently they were paparazzi?! I did not see them at first look but it was true that when I looked carefully I saw people in 2 cars, at the opposite of the street.

When the shooting finished (around 11pm), Natalie went up in a black car. I took my chance one last time and got back to the trailers, I stood near the one I thought was hers. And yes finally, she went out without make up, in her everyday clothes, but I had no time to try to catch her and I do not really want too actually. I know she was working, she was not here for photos. And it is the end of my story, of course I'm a bit disappointed, because I dream to have a little talk with her and take a picture. But I stayed really happy, I know not every Natalie fan has the chance to see her on a set, and it stays a really awsome memory and so unexpected.
Well done! As a bonus, here is a short video that Aurore's boyfriend took.