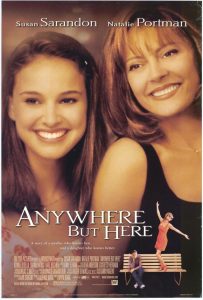 A story of a mother who knows best… and a daughter who knows better.
Director: Wayne Wang
Cast: Susan Sarandon, Shawn Hatosy, Corbin Allred…

US Release Date: November 12, 1999 
Filmed: during the summer of 1998 (June 29 – September) in California (Beverly Hills, Westwood & LA) & Nevada (Las Vegas)

Natalie's Character: Ann August
Plot Summary: Fed up with her small-town Bay City existence, Adele August leaves her family and second husband and heads for Beverley Hills with her daughter. The teenager resents the move and her mother's always flamboyant behaviour and in turns plans to get away to university on the east coast. Mum's plans are different – she wants a movie star for a daughter. and then things go to hell.
Notes: Natalie first passed on this film because of a nude scene she felt was unnecessary. After Susan Sarandon heard Natalie wasn't going to do the film, she dropped out too. The director Wayne Wang changed the script to drop the nude scene and Natalie and Susan were back in. Natalie was nominated for a Golden Globe Award for Best Supporting Actress for this role.
Running Time: 114 mins 
MPAA Rating: PG-13 (USA)

Budget: $23m (USA)
Gross: $18.653m (USA)
IMDB Rating – 5.9/10
Rotten Tomatoes Rating – 6.4/10
NP.com Users Rating – 7.2/10