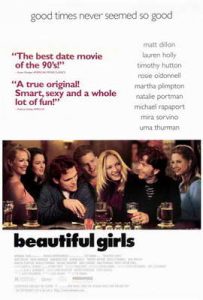 Good times never seemed so good
Director: Ted Demme
Cast: Timothy Hutton, Michael Rapaport, Mira Sorvino, Uma Thurman, Matt Dillon, Rosie O'Donnell, Lauren Holly …
US Release Date: February 9, 1996 
Filmed: in 1995 in Minnesota.
Natalie's Character: Marty
Plot Summary: A piano player goes back to his old hometown to see his old friends from high school. Three work in the lawnscaping business as snow plow drivers and another works as a manager in a factory while another runs a local bar. They gather and talk about the women in their lives, maturity, and dealing with life and careers. One man is having an affair with his ex-girlfriend from high school while he's still married to another woman. Another man is obsessed with trying to get his ex-girlfriend back, and the piano player is facing somewhat of a dilemma when the next door neighbor who is 13 year old and falls for him. and then things go to hell.
Notes: Considered by many to be Natalie's best performance. Natalie learned to ice skate while making this movie.
Running Time: 112 mins 
MPAA Rating: R (USA) 
Budget: n/a
Gross: $20.837m (USA)
IMDB Rating – 7.1/10 
Rotten Tomatoes Rating – 7.0/10 
NP.com Users Rating – 7.0/10