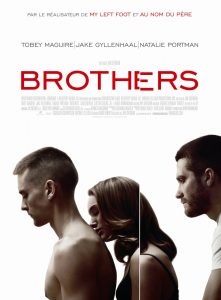 Director: Jim Sheridan
Co-stars: Tobey Maguire, Jake Gyllenhaal

US Release Date: 4 December 2008 
Filming: November 2007 – January 2008

Natalie's Character: Grace Cahill

Plot Summary: The story centers on a man (Maguire) who is sent to fight in Afghanistan while his black-sheep brother (Gyllenhaal) cares for his wife (Portman) and child.
Notes:
– The film is a "based on" Susanne Bier's 2004 Danish film of the same name.
– On doing a remake, Natalie said: "I actually haven't seen it yet either. I'm not sure if I will because I'm a little scared. I'm always scared that my whole performance will be dictated by either trying to do the same or trying to do something different than what I see someone else do.
Running Time: 105 min 
MPAA Rating: Rated R

Budget: $26 million 
Gross: $29 million (domestic) and $43 million (worldwide)
IMDB Rating – 7.2/10
Rotten Tomatoes Rating – 6.2/10
NP.com Users Rating – 7.3/10