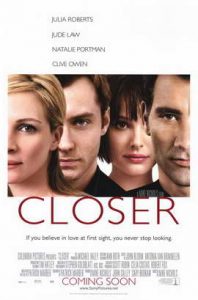 Director: Mike Nichols
Co-stars: Jude Law, Julia Roberts, Clive Owen…

US Release Date: December 3, 2004.
Filming: from January 4th until late March of 2004 in London and on July of 2004 in New York.

Natalie's Character: Alice/Jane ("a waif-like street-wise stripper")

Plot Summary: Drama exploring the ever-changing state of modern relationships through two couples tangled in a web of love, lust, sex and betrayal.. When the guy from the first couple links up with the gal from the second couple, the group dynamic turns ugly. '
'Closer" is said to be the perfect combination of "Who's Afraid of Virginia Woolf" and "Carnal Knowledge" with a dash of "The Graduate" thrown in for good measure.
Notes:
– This role garnered Natalie a Best Supporting Actress win at the Golden Globes as well as many nominations at award shows including the Academy Awards.
– Clive Owen played the role of Dan in the original stage production. He also won the Golden Globe for Best Supporting Actor and was nominated at the Oscars.
– At the beginning of filming, Natalie gave Julia Roberts a necklace that said "cunt" in honor of their characters' foul mouths. At the end of filming, Julia Roberts gave Natalie Portman a necklace that said "lil' cunt".
– Cate Blanchett was originally signed to play the role of Anna, but due to her second pregnancy she had to drop out of the film.
– Feature adaptation of Patrick Marber's acclaimed stage drama "Closer". Nominated for a Tony Award for Best Play, Closer opened March 25, 1999 at Broadway's Music Box Theatre following a London run at the Royal National Theatre.
Running Time: 104 minutes. 
MPAA Rating: R for sequences of graphic sexual dialogue, nudity/sexuality and language.

Budget: $27 million (USA: Columbia Pictures)
Gross: $33 987 757
IMDB Rating – 7.4/10
Rotten Tomatoes Rating – 6.7/10
NP.com Users Rating – 8.1/10