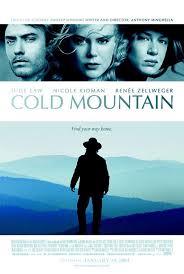 Director: Anthony Minghella 
Co-stars: Jude Law, Nicole Kidman, Renée Zellweger, Philip Seymour Hoffman, Giovanni Ribisi, Jena Malone, Donald Sutherland, Brendan Gleeson, Ray Winstone, Kathy Baker, Jack White…

US Release Date: December 25, 2003
Filmed: in Romania and South Carolina from July 15th to November 22nd of 2002. Natalie completed her part in November 2002.

Natalie's Character: Sara

Plot Summary: Inman (Law), a wounded soldier in the American civil war, leaves Gettysburg and begins a long and difficult walk home to Cold Mountain and his beloved Ada (Kidman) and meets some very interesting people and places along the way.
Notes:
– Natalie originally auditioned for the part of Ada.
– In the original script, Inman stays with Sara to help clean up after the encounter with the Union soldiers, but Sara's baby dies and a grief-stricken Sara shoots herself. This is one of the deleted scenes on the DVD.
– Adaptation of Charles Frazier's novel, which was loosely based on Homer's "The Odyssey".
– Jennifer Garner auditioned for Natalie's part. As well as singer Faith Hill: "There's one that's coming out that I read for that's a dream part," Hill said. "I didn't get the part. Natalie Portman got the part, but it's Cold Mountain. It's an amazing script, and incredible director, and I had a wonderful experience reading for him, but it's with Jude Law, Nicole Kidman, and Renee Zellweger and Natalie Portman–it was her part–Sara. It's an amazing, amazing role."

Running Time: 152 minutes. 
MPAA Rating: R for violence and sexuality.

Budget: $ 83 million (USA: Miramax)
Gross USA: $ 95 632 614

IMDB Rating – 7.3/10
Rotten Tomatoes Rating – 7.9/10
NP.com Users Rating – 6.9/10