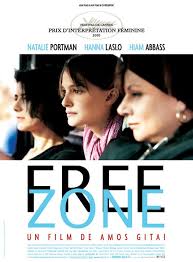 …
Director: Amos Gitai
Co-stars: Hanna Lazlo, Haim Abbas, Aki Avni, Liron Levo & Carmen Maura.

Israel Release Date: June 9, 2005.
US Release Date: December 16, 2005.
Filming: in 18 days until February 24th of 2005 on location in Tel Aviv and Jerusalem, Israel.

Natalie's Character: Rebecca. 

Plot Summary: The unlikely relationship between two completely different women thrown together by circumstance. Rebecca (Portman) runs away from her luxury hotel after a quarrel with her mother-in-law (Carmen Maura) and dives into a taxi driven by Hanna (Hanna Lazlo). The two women embark on a journey that is not entirely kosher and involves thugs and political intrigue.
Notes:
– "Free Zone" was selected in competition at the 2005 Cannes film Festival and Hanna Lazlo won the Best Actress award.
– The opening scene is a 10-minute close-up shot of Natalie's face crying in a car by the Wailing Wall.
– A kissing scene with co-actor Aki Avni in a car park next to the Wailing Wall infuriated ultra-Orthodox Jews praying at the site, who slammed the smooch as an act of "lewdness" before chasing the pair and the crew off the set.The paper Yediot Aharonot said Amos Gitai had not asked for permission prior to shooting the scene, but reached a compromise after the incident that he and his crew could come back to the site at a later hour. The scene was, in the end, edited out of the final cut.
– Gitaï included to his story some bits of Natalie's personal biography.
– She met Liron Levo during the filming. He appears in one scene as a security guard.
– Natalie has been busy steeping herself in her native country's history and culture, not only as research but also to explore her own heritage: she has been studying at the Hebrew University in Jerusalem, has finished a novel by David Grossman and is working her way through Yitzhak Rabin's memoirs. While everything in Israel is political, she says, the film is not explicitly so. She speaks passionately about the conflict, but for her, "living in Israel is really beautiful. One of the most shocking things is how peaceful it feels".(The Guardian Unlimited, January 2005)
– It's the first time an Israeli movie is shot in Jordan with the support of the Royal Commission of cinema.

Running Time: 90 minutes. 
MPAA Rating: PG

Budget: $ 1 234 567 (French-Israeli-Spanish-Benelux co-production)
Gross: $ 236 520 (Worldwide)
IMDB Rating – 6/10
Rotten Tomatoes Rating – 5/10
NP.com Users Rating – 5.3/10