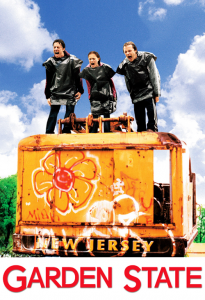 …
Director: Zach Braff (directorial debut)
Co-stars: Zach Braff, Ian Holm, Peter Sarsgaard…

US Release Date: July 28, 2004.
Filmed: in 24 days from April 23th until late May of 2003 in New Jersey and L.A.

Natalie's Character: Samantha

Plot Summary: Andrew Largeman (Zach Braff) returns to his hometown for the funeral of his clinically depressed mother, a journey that reconnects him with some of his past friends. Because the trip coincides wtih his decision to stop taking his powerful antidepressants, he also begins to reconnect with himself. A chance meeting with Sam (Natalie Portman), a girl also suffering form various maladies, opens up the possibility of rekindling emotional attachments, confronting his psychologist father, and perhaps beginning a new life.
Notes:
– Natalie was Braff's first choice for the role of Sam but he never thought he would get her.
– Selected for competition in the 2004 Sundance Film Festival where it has been acquired by Fox Searchlight and Miramax for $5 million.
– Won the Best Film award at the Maui Film Festival on June 2004.

Running Time: 102 minutes 
MPAA Rating: R for language, drug use and a scene of sexuality.

Budget: $ 2,5 million (Camelot Pictures)
Gross USA: $ 26 781 723
IMDB Rating – 7.9/10
Rotten Tomatoes Rating – 7.5/10
NP.com Users Rating – 8/10