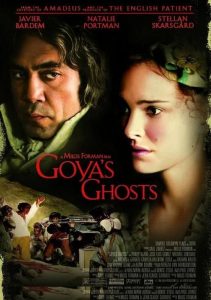 Director: Milos Forman
Co-stars: Javier Bardem, Stellan Skarsgård, Randy Quaid…

Spain Release Date: November 10, 2006.
US Release Date: 20 July, 2007
Filming: from September 5th until December 7th of 2005 in Madrid, Salamanca, Toledo and Cuenca province in Spain.

Natalie's Characters: Goya's muse Ines & her teenage daughter Alicia.

Plot Summary: Spain 1792 – the Catholic Church is at the height of its powers. The revolution has sent neighbouring France into turmoil and the Spanish church decides to restore order by bringing back the dreaded Inquisition. Spearheading this movement is the enigmatic and cunning priest Lorenzo, a man who seeks power above all. Lorenzo's friend is Francisco Goya, Spain's most famous artist and portraitist to kings and queens. When his beautiful model Ines is unjustly imprisoned and tortured by the Iquisition their friendship is put to a test as Goya begs Lorenzo to spare the poor girl's life…
Notes: "There's tonnes of stuff I'll have to learn for the film", she explains excitedly, "About Catholicism, about Spain, about painting, about art history and the history of the church in Spain. I'll also have to learn how to play the piano and conduct. I'll get to do stuff which is really challenging which is great, but it has to be like that because if I'm not obsessed with my work I'll get obsessed with something else." (Time Out – June 2005). 

Running Time: 113 min 
MPAA Rating: R Rating

Budget: ? (The Saul Zaentz Company)
Gross: 1 million (domestic) and 9.5 million (worldwide)
IMDB Rating – 7/10
Rotten Tomatoes Rating – 4.8/10
NP.com Users Rating – 6.4/10