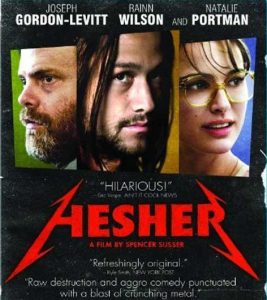 Director: Spencer Susser
Cast: Joseph Gordon-Levitt, Rainn Wilson…

US Release Date: May 13th 2011 
Filmed: May 2 to June 15 in LA, 2009

Natalie's Character: Nicole
Plot Summary: TJ Forney is 13-years-old. Two months ago his mother was killed in an accident, so he and his broken dad, Paul, move in with his grandmother to pick up the pieces. "Hesher" is a loner. He hates the world and everyone in it. He has long greasy hair, a baby mustache, a Metallica t-shirt and homemade tattoos. He is malnourished and smokes a lot of cigarettes. He likes to get into fights. He likes fire and blowing things up. He lives in his van, until he meets TJ. "Hesher" is the story of a family struggling to deal with a loss and the anarchist who helps them do it.
Notes: – Natalie is producing this film and had this to say about putting it together, "Spencer had been working on this script for several years and he sent it to me about a year ago. It took quite a while to get it going. It was a classic tale of Murphy's Law pre-production to get financing and all that. It was really challenging. But it makes it all the sweeter now that we've pulled it all together."
– Prior to filming, Joseph Gordon-Levitt had this to say about the film, "I love it. Don't wanna tell you too much about it, specifically, because personally, I prefer watching movies that I don't yet know much about. I will say that the director is named Spencer Susser, and he's the genuine article. Natalie Portman is producing and playing a part, and I think it goes without saying how cool that is."
– Director Spencer Susser is known for this short horror-romance-comedy.

Running Time: 106 min 
MPAA Rating: Rated R

Budget: $7 million est
Gross: $380k (Domestic)