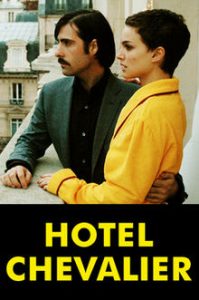 …
Director: Wes Anderson
Co-stars: Jason Schwartzman

US Release Date: Potentially September 29 with The Darjeeling Limited 
Filming: Somewhere around late 2005 and early 2006

Natalie's Character: Jack's ex girlfriend whose name remains a mystery.

Plot Summary: Jack's (Schwartzman) ex girlfriend (Natalie), pays him a surprise visit at his French hotel room.
Notes:
– Rumours surfaced about Natalie possibly working with Wes Anderson in December 2005 and she was spotted with Wes in Paris in January 2006. But it was only in August 2007 that the confirmation of the films existence was made.
– Premiered at the 2007 Venice Film Festival, where it was received much better than The Darjeeling Limited.
– The film did not play in front of The Darjeeling Limited on release but was included on the DVD and was released on the web as a free download.
Running Time: 13 minutes 
MPAA Rating: R for language, nudity and mustaches

Budget: ? (American Empirical Pictures)
Gross: N/A
IMDB Rating – 7.1/10
Rotten Tomatoes Rating – N/A 
NP.com Users Rating – 7.3/10