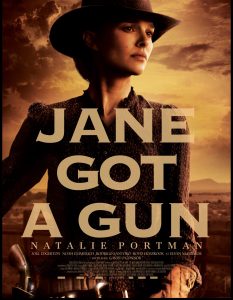 …
Director: Gavin O'Connor
Co-stars: Joel Edgerton, Ewan McGregor, Rodrigo Santoro, Noah Emmerich

US Release Date: January 29th, 2016 
Filming: March 2013 – ?

Natalie's Character: Jane Hammond

Plot Summary: After her outlaw husband returns home shot with eight bullets and barely alive, Jane reluctantly reaches out to an ex-lover who she hasn't seen in over ten years to help her defend her farm when the time comes that her husband's gang eventually tracks him down to finish the job.
Notes:
– The production had a rocky start with director Lynne Ramsay failing to arrive on set for the first day of filming. After many internet headlines and a few days, O'Connor was brought on to replace her.
– Michael Fassbender was initially cast as the hero, but pulled out a couple weeks before production began. The cited reason was scheduling difficulties but rumours suggest a clash of opinion with then director, Lynne Ramsay.
– Joel Edgerton was switched from villain to hero on Fassbender's departure. Jude Law then came on board as the villain.
– After Ramsay left, Jude Law did the same, citing her being the main reason he took the job. He was later replaced by Bradley Cooper…
-…who then left due to scheduling conflicts with another film. At the time of writing Ewan McGregor has been cast in the villain role, and was finally finalized.
– Natalie is producing the film.
-The film continued to be plagued by the troubles with Relativity Media; the constant delays, lack of steady promotion, and loss of interest resulted in a bit of a dismal return at the theaters.
Running Time: 98 mins 
MPAA Rating: R

Budget: $25 million 
Gross: $3 million