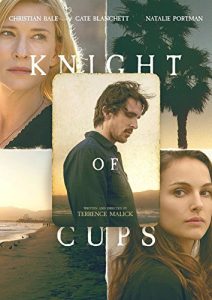 …
Director: Terrence Malick
Co-stars: Christian Bale, Cate Blanchett, Isabel Lucas, Wes Bentley, Imogen Poots, Frida Pinto, Joel Kinnaman etc etc.

US Release Date:
Filming: May – August 2012

Natalie's Character: Elizabeth


Plot Summary: "The Knight of Cups is a story of a man, temptations, celebrity, and excess." The title, Knight Of Cups, has to do with a tarot card (explanation here), and the film divides its stories by names of some of the other tarot cards. Natalie's character, Elizabeth, pertains to the "Death" card later on in the film; she is a married woman that has an affair with Christian Bale's character Rick.
Notes: – Knight Of Cups is one of two Terrence Malick films that Natalie is shooting back to back (the other being Song to Song). She is not the only actor doing double duty as Christian Bale and Cate Blanchett are also said to be in the other film (Christian Bale's parts were ultimately left out of Song to Song).
– Terrence Malick is known to reconstruct his films in the editing room, often dropping or reducing the roles of actors who thought they would be prominently featured. Natalie's parts, however, were left in the film; she received high billing for the film as well.
– Natalie and the other actors signed up knowing that their parts may be cut, as well as not having read a script.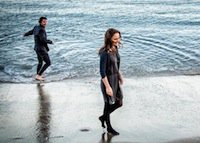 Running Time: 118 minutes
MPAA Rating: R

Budget: $1.1 million
Gross: $566,006