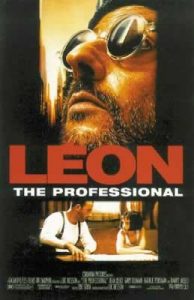 A perfect assassin. An innocent girl. They have nothing left to lose except each other.
He moves without sound. Kills without emotion. Disappears without trace. Only a 12 year old girl… knows his weakness.
Director: Luc Besson
Cast: Jean Reno, Gary Oldman, Danny Aiello…
France Release Date: September 14, 1994 
US Release Date: November 18, 1994 
Filmed: from June 1st until July 23rd in New York and from July 28th to October 7th of 1993 in Paris. 
Natalie's Character: Mathilda Lando
Plot Summary: A hitman takes in a little 12 year old girl after her family is killed by crooked DEA agents. He teaches her how to kill and in turn she teaches him how to be a human being. and then things go to hell.
Director's Cut : A longer director's cut, retitled 'Leon: version integrale' has been re-released in French cinemas on June 26, 1996. This version is 26 minutes longer than the previously release version and features all sequences that were removed from the film after disastrous tests with L.A. preview audiences. It is available on DVD as "Leon, the Professional"
The new scenes include:
Mathilda telling Leon she is 18 years old.
Mathilda threatening to shoot herself playing russian roulette if Leon doesn't teach her how to become a killer.
Leon taking Mathilda to meet Tony.
Leon and Mathilda hitting the home of a tattoed drug dealer, and setting fire to his supply of drugs.
New training missions where Mathilda learns the ropes of becoming an assassin.
Leon and Matilda going to a restaurant to celebrate her first hit.
Mathilda asking Leon to have sex with her and Leon refusing.
Leon explaining why he had to leave Italy and go to New York when he was 19 years old.
Mathilda and Leon sleeping together in a bed.
Notes: Natalie's first film. The original script was deemed too violent by her parents. Luc Besson made some changes. you can read the original script here. it is not the full script. It begins where the original script starts to differ from the movie.
Running Time: 110 mins (Director's cut: 136 mins) 
MPAA Rating: R (USA) / -12 (France)
Budget: FRF 115,000,000
Gross: $32.346m (USA)
IMDB Rating – 8.6/10 
Rotten Tomatoes Rating – 6.7/10 
NP.com Users Rating – 8.6/10 (as of December 2012)