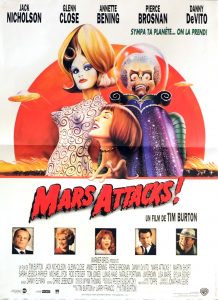 Nice planet. We'll take it!
Director: Tim Burton
Cast: Jack Nicholson, Glenn Close, Pierce Brosnan, Annette Bening, Sarah Jessica Parker, Michael J. Fox, Danny De Vito, Lukas Haas, Jim Brown, Martin Short, Rod Stiger…

US Release Date: December 13, 1996 
Filmed: during the summer of 1995.

Natalie's Character: Taffy Dale
Plot Summary: Mars Attacks! and then things go to hell.
Notes: well…um. Natalie lives?
"I'm not going to say my greatest cinematic moment was as Taffy in Mars Attacks!" But I got to hang out with Tim Burton, and Jack Nicholson tried to teach me how to whistle." (He failed.), (Rolling Stone, June 2002).

Running Time: 106 mins
MPAA Rating: PG-13 (USA)
Budget:$70m (USA)
Gross:37.754m (USA)

IMDB Rating: 6.2/10
Rotten Tomatoes Rating – 6/10
NP.com Users Rating – 5.2/10