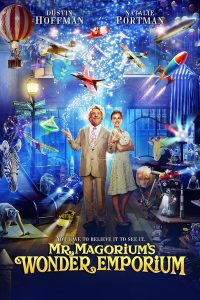 Director: Zach Helm (directorial debut)
Co-stars: Dustin Hoffman & Jason Bateman…

US Release Date: November 16, 2007.
Filming: from March 31th until June 13th of 2006 in Toronto.

Natalie's Character: Molly Mahoney, the depressed manager of a toy store.

Plot Summary: set in a strange and magical toy store, "Emporium" is a story about growing up and believing in the unbelievable.
A depressed manager comes into the care of an enchanted toy store after the eccentric owner passes away. However, the once-bustling business goes down because her depression and disbelief of anything enchanted. She must overcome her skeptism in order to see the magical part of life.
Notes:
– Described as a cross between "Willy Wonka and the Chocolate Factory" and "Big".
– Drew Barrymore was once considered for the role.
– Was originally intended to be a much smaller indie film.
Running Time: 93 min 
MPAA Rating: G Rated

Budget: ? (Mandate Pictures)
Gross: $32 Million ($69.5 million worldwide)
IMDB Rating – 6.2/10
Rotten Tomatoes Rating – 4.9/10
NP.com Users Rating – 6.1/10