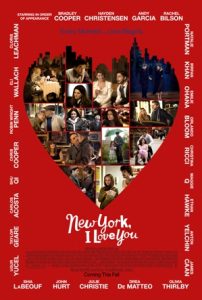 Concept : "New York, I Love You" follows the format of "Paris Je T'aime", an anthology of short films shot by different directors with each story taking place in a different area of New York. Like "Paris Je T'aime", the film will be a "valentine to the city". Natalie is acting in one short while writing and directing another short. This will mark her debut as a writer and director.

US Release Date: 16 October 2009
CHAIM IN THE MOOD FOR LOVE ("Segment Two")
Director: Mira Nair

Co-stars: Irfan Khan

Natalie's Character: Rifka

Plot Summary: In the Diamond District, a young Hasidic bride (Natalie Portman) negotiates with a Jain man from India (Irrfan Khan) over a diamond purchase, each flirting with the other's culture and finding surprising common ground.

Filming: Around NYC 12th-16th March 2008

Notes: – Natalie's Hasidic co-star was forced to remove himself from the film as his community has very strict rules and acting in a film was considered to be a terrible thing. You can read all about it here.
– Was formerly believed to be titled, "Kosher Vegetarian". 
Segment 8
Director: Natalie Portman

Stars: Carlos Acosta and Taylor Geare

Natalie's Character: None, she's only writing and directing this short.

Plot Summary: A father takes his daughter for a walk in the park.

Filming: ? 

Notes: – The producers wanted a professional actor but Natalie fought for Carlos Acosta.
– The young daughter was played by Taylor Geare, who would go on to play Natalie's daughter in Brothers. 

Running Time: 110 min 
MPAA Rating: Rated R 

Budget: $14.7 million 
Gross: $1.6 million (domestic) and $6.5 million (worldwide)
IMDB Rating – 6.5/10
Rotten Tomatoes Rating – 5/10
NP.com Users Rating – 6.3/10