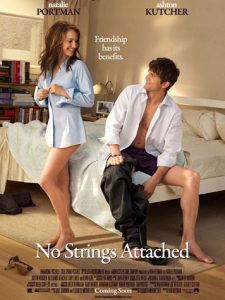 Director: Ivan Reitman
Co-stars: Ashton Kutcher, Kevin Kline, Olivia Thirlby, Greta Gerwig, Ophelia Lovibond, Mindy Kaling, Cary Elwes…
US Release Date: January 21st (2011)
Filming: May – ? (2010)

Natalie's Character: Emma

Plot Summary: The Elizabeth Meriwether script centers of the question of whether two long-term friends can have a purely sexual relationship without falling in love.
Notes: – When Merriwether's script made it onto Hollywood's 2008 Black List, a ranking of the best unproduced scripts doing the rounds in Hollywood, the film was originally titled Fuck Buddies.
– After Fuck Buddies it was titled Friends With Benefits. Then it was untitled for awhile before landing on No Strings…and then hopping over to No Strings Attached.

Running Time: 110 min
MPAA Rating: R

Budget: $25 million 
Gross: $70 million (domestic) and $147 million (world wide)