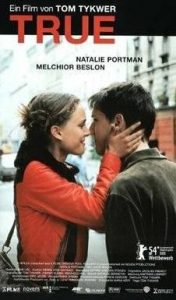 Director: Tom Tykwer
Co-star: Melchior Beslon

Germany Release Date: February 12, 2004 ("True")
France Release Date: June 21, 2006 ("Paris, je t'aime")
US Release Date: May 4, 2007
Filmed: In Paris for 4 days from August 6th until 9th of 2002 ("True").
Natalie's Character: Francine

Plot summary: Thomas, a young blind man, receives a phonecall from his girlfriend, Francine, a young actress studying in Paris. Her words are poetic and painful since she announces him their seperation after a fight. Thomas hangs up, filled with a deep feeling of sadness. He visualises with emotion the moments shared with her from their first encounter in Paris after a misunderstanding. We are the witness of complicity, love and habit in their relation until the moment when she calls. In his mind, Francine is here, yet her image seems to fade away as if she was becoming transparent day after day. Maybe he was loosing her without noticing. Or maybe…(True-movie.de)

Concept: "True" is a short film making up a 5 minute segment of the feature film "Paris, je t'aime" produced by Victoires Productions. "Paris je t'aime" combines 18 short-films about love encounters in Paris filmed by international directors in the 18 districts (or "arrondissements") of Paris. It used to be about the 20 arrondissements of Paris but two segments directed by Raphaël Nadjari (11th arrondissement) and Christoffer Boe (15th arrondissement, with Jonathan Zaccaï, Camille Japy & Eric Poulain) had to be edited out.
The segment "True" was released independantly in Germany on February 2004. "Paris je t'aime" was screened at the 2006 Cannes Film Festival in the section "Un certain Regard". The version shown in Cannes was the 81st version of the movie.

Directors of the other segments :
1st: Ethan & Joel Coen / with Steve Buscemi, Julie Bataille & Axel Kiener.

2nd: Nobuhiro Suwa / with Juliette Binoche, Willem Dafoe & Martin Combes.

3rd: Olivier Assayas / with Maggie Gyllenhaal & Joana Preiss.

4th: Gus Van Sant / with Marianne Faithfull, Gaspard Ulliel & Elias McConnell.

5th: Gurinder Chadha / with Leïla Bekhti & Cyril Descours.

6th: Gérard Depardieu & Frédéric Auburtin / with Gena Rowlands & Ben Gazzara.

7th: Sylvain Chomet / with Yolande Moreau & Paul Putner.

8th: Vincenzo Natali / with Elijah Wood & Olga Kurylenko.

9th: Richard LaGravenese / with Fanny Ardant & Bob Hoskins.

10th: Tom Tykwer / with Natalie Portman & Melchior Beslon.

12th: Isabel Coixet / with Sergio Castellito, Miranda Richardson, Leonor Watling & Javier Cámara.

13th: Christopher Doyle / with Barbet Schroeder & Li Xin.

14th: Alexander Payne / with Margo Martindale.

16th: Walter Salles & Daniela Thomas / with Catalina Sandino Moreno.

17th: Alfonso Cuarón / with Ludivine Sagnier, Nick Nolte & Sara Martins.

18th: Bruno Podalydès / with Bruno Podalydès.

19th: Oliver Schmitz / with Aïssa Maïga & Seydou Boro.

20th: Wes Craven / with Rufus Sewell, Emily Mortimer & Alexander Payne.
Notes: Tom Tykwer admitted one regret about his short-film. "It's too short! It's only 10 minutes long, and when I saw it, I said to myself, 'There's a full movie in there.' I wish we could have done a 90-minute version of it, but maybe we'll do that later.

Running Time: 10 minutes, but will be cut down to 5 minutes in "Paris, je t'aime".
MPAA Rating: R

Budget: $13 million (estimated)
Gross: $17.3 million (worldwide)
IMDB Rating – 7.5/10
Rotten Tomatoes Rating – 7/10
NP.com Users Rating – 7.6/10