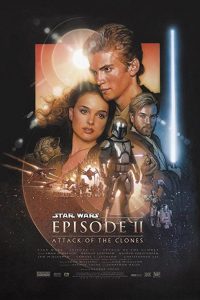 Director: George Lucas
Cast: Ewan McGregor, Hayden Christensen, Samuel L. Jackson, Christopher Lee, Pernilla August, Rose Byrne…

US Release Date: May 16, 2002 
Filmed: during the summer of 2000 (June 26 – September 20) in Australia (Fox Studios), Tunisia (Matmata & Tozeun), Spain (Plaza de España, Sevilla, Andalucía) & Italy (Como, Lombardia & Royal Palace, Caserta, Campania) and on March 2001 for some reshoots in London.

Natalie's Character: Amidala
Plot Summary: Ten years after the events of The Phantom Menace, not only has the galaxy undergone significant change, but so have our familiar heroes Obi-Wan Kenobi (Ewan McGregor), Padmé Amidala (Natalie Portman) and Anakin Skywalker (Hayden Christensen) as they are thrown together again for the first time since the Trade Federation invasion of Naboo. Anakin has grown into the accomplished Jedi apprentice of Obi-Wan, who himself has transitioned from student to teacher. The two Jedi are assigned to protect Padmé whose life is threatened by a faction of political separatists. As relationships form and powerful forces collide, these heroes face choices that will impact not only their own fates, but the destiny of the Republic. and then things go to hell.
Notes: Natalie had a much better time shooting this than she did with Episode I, except that… "I got this horrible ear infection and they were giving me cortisone shots in my ass for weeks. You know how medicine abroad is different from the States? My dad is a doctor and I called him and he was like, 'Tell them to give you antibiotics.' In the end, I went back to my doctor in the states and he's like, 'You were in Lake Como? That lake is sewage-infested.' So that was lovely." (Esquire, June 2002)

Running Time: 143 min / 120 min (IMAX Version) 
MPAA Rating: PG (USA)

Budget: $120m
Gross: $310.675m (USA)
IMDB Rating – 6.8/10
Rotten Tomatoes Rating – 6.5/10
NP.com Users Rating – 6.7/10