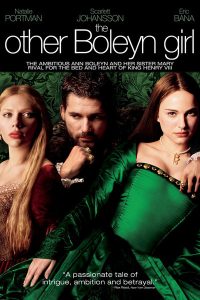 Director: Justin Chadwick.
Co-stars: Eric Bana, Scarlett Johansson & Kristin Scott Thomas…

US Release Date: 29 February 2008
Filming: from September until December 13 of 2006 in Britain.

Natalie's Character: Anne Boleyn

Plot Summary: The Boleyn family's struggle for power via their daughters. At court, the married Mary Boleyn is picked out for favour by Henry and, after her religious and moral scruples are batted away by her power-hungry father, becomes his mistress, bearing him two children. While Mary recovers from a confinement, Anne – brought up at the French court to be captivating – is charged with making sure Henry's eye does not stray. With her seductive manner she does her job too well, attracting the king. After Anne's melodramatic end (and that of her brother) at the scaffold, Mary escapes the bloodbath, having abandoned the ambitions of her family and remarried for love.
Notes: Based on the historical novel by Philippa Gregory.

Running Time: 115 min 
MPAA Rating: PG-13

Budget: £20 million / $50 million (BBC Films) 
Gross: $27 million ($78 million worldwide)
IMDB Rating – 6.7/10
Rotten Tomatoes Rating – 5.3/10
NP.com Users Rating – 6.9/10