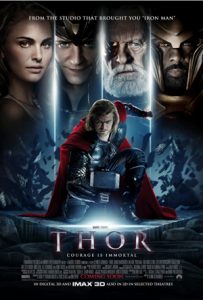 Director: Kenneth Branagh
Co-stars: Chris Hemsworth, Anthony Hopkins, Stellen Skarsgard…
US Release Date: 20 May, 2011
Filming: Mid January – Late April 2010

Natalie's Character: Jane Foster

Plot Summary: At the center of the story is the mighty Thor (Chris Hemsworth), a powerful but arrogant warrior whose reckless actions reignite an ancient war. Thor is cast down to Earth by his father Odin (Anthony Hopkins) and is forced to live among humans. A beautiful, young scientist, Jane Foster (Natalie Portman), has a profound effect on Thor, as she ultimately becomes his first love. It's while here on Earth that Thor learns what it takes to be a true hero when the most dangerous villain of his world sends the darkest forces of Asgard to invade Earth.
Notes: – Apparently Natalie took some convincing from Marvel and Branagh that the role of Jane Foster would have some depth and challenges. So says Kevin Feige of Marvel.
– It was Natalie's suggestion to make the Jane Foster character more of a free thinking scientist, a change that the writer's indicate was the key to making the character more interesting.
– Natalie initially signed on for three Thor films and with the success of the first film, it looks as though that may now become a reality.
Running Time: 115 min
MPAA Rating: PG-13
Budget: $150 million 
Gross: $179 million (domestic) and $440 million (worldwide)