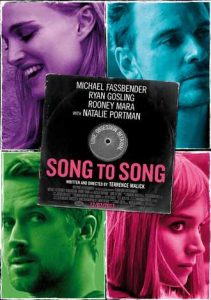 …
Director: Terrence Malick
Co-stars: Ryan Gosling, Michael Fassbender, Rooney Mara, Cate Blanchett, Lykke Li, Val Kilmer, Bérénice Marlohe, Holly Hunter…

US Release Date: March 17, 2017
Filming: September – ? 2013

Natalie's Character: Rhonda
Plot Summary: Two intersecting love triangles. Obsession and betrayal set against the music scene in Austin, Texas. Natalie's character, Rhonda, is a waitress that gets picked up by Michael Fassbender's charming record producer character (despite his relationship with musician Faye [Rooney Mara]).

Notes: – This film was originally titled Lawless, but Malick allowed a Harvey Weinstein film, called then The Wettest County, to take the title.
– This film shoots directly after Knight Of Cups. Cate Blanchett, Christian Bale and Natalie are in both films; Christian Bale's scenes, however, were cut out of the final product. There is no narrative connection between the two films.
– Terrence Malick is known to reconstruct his films in the editing room, often dropping or reducing the roles of actors who thought they would be prominently featured. Natalie's performance was left in the film.
– Natalie and the other actors signed up knowing that their parts may be cut, as well as not having read a script.
Natalie's Character:
Running Time: 129 minutes
MPAA Rating: R

Budget: $1,027,769
Gross: $443,684