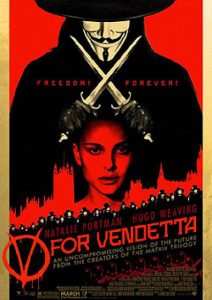 Director: James McTeigue (directorial debut)
Co-stars: Hugo Weaving, Sinéad Cusack, Stephen Fry, John Hurt, Stephen Rea…

US Release Date: March 17, 2006.
Filming: from March 7th until late June of 2005 on location in Berlin, Germany and London, England.

Natalie's Character: Evey Hammond 

Plot Summary: In an alternate future in which Germany wins WWII and Great Britain becomes a fascist state, a mild-mannered young woman named Evey (Portman) is rescued from a life-and-death situation by a masked vigilante (Weaving) known only as "V." Incomparably charismatic and ferociously skilled in the art of combat and deception, V ignites a revolution when he detonates two London landmarks and takes over the government-controlled airwaves, urging his fellow citizens to rise up against tyranny and oppression. As Evey uncovers the truth about V's mysterious background, she also discovers the truth about herself — and emerges as his unlikely ally in the culmination of his plot to bring freedom and justice back to a society fraught with cruelty and corruption.
Notes: 
– For the role, Natalie shaved her head totally bald and speaks with a British accent: "I worked with the dialogue coach Barbara Berkery for a month and a half before we started shooting, and she was with me the whole time. We'd do exercises for an hour every morning before we started (…) The first time I met Larry and James McTeigue – I auditioned for them – they asked if I would shave, and I said yeah! [Laughs] Everyone else made a bigger deal out of it than I did."(CHUD.com – July 2005)
– James Purefoy who was originally cast as V, left the project and was replaced by Hugo Weaving after one month of shooting:
"James Purefoy started out and after some weeks of shooting they brought in Hugo because they didn't feel it was working out. We didn't reshoot most of the stuff, they're re-voicing." (AICN – July 2005)
– James McTeigue was first assistant director on the "Star Wars" Episodes II & III and the "Matrix" trilogy.
– The screenplay by Andy Wachowski and Larry Wachowski is based on the acclaimed graphic novel "V For Vendetta" by author Alan Moore & illustrator David Lloyd and originally collected by DC Comics as a ten-part series in 1988.
– Produced by Joel Silver, Andy Wachowski and Larry Wachowski.

Running Time: 132 minutes 
MPAA Rating: R

Budget: 54 million (USA/Germany: Warner Bros. Pictures / Silver Pictures)
Gross: $131 million worldwide
IMDB Rating – 8.2/10
Rotten Tomatoes Rating – 6.8/10
NP.com Users Rating – 8.4/10