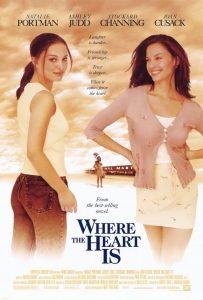 Laughter is harder. Friendship is stronger. Trust is deeper. When it comes from the heart.
Discover where the emotion is…the friendship is…and the laughter is…
Director: Matt Williams
Cast: Ashley Judd, Stockard Channing, James Frain, Sally Field, Joan Cusack…

US Release Date: April 28, 2000 
Filmed: during the summer of 1999 in Texas (Austin, Lockhart, Taylor & Baylor University).

Natalie's Character: Novalee Nation
Plot Summary: Novalee Nation is a pregnant 17-year-old from Tennessee heading to California with her boyfriend Willie Jack, but is abandoned by him at a Wal-Mart store in Sequoyah, Oklahoma. Novalee has no job, no skills and only $5.55 in her pocket, so she secretly lives in the Wal-Mart until her daughter Americus is born six weeks later. Novalee decides to raise her daughter and rebuild her life in Sequoyah, with the help of eccentric but kind strangers. and then things go to hell.
Notes: This film marks many firsts for Natalie. it was the first movie she filmed as an adult without her parents on the set. it was her first leading role. and it was her first love scene which she found difficult: "That was probably like my worst day on the set. I had a really really hard time. That kind of thing is so personal."
Running Time: 120 mins 
MPAA Rating: PG-13 (USA)

Budget: $15m (USA)
Gross: $33.771m (USA)
IMDB Rating – 6.3/10
Rotten Tomatoes Rating – 4.7/10
NP.com Users Rating – 7.1/10