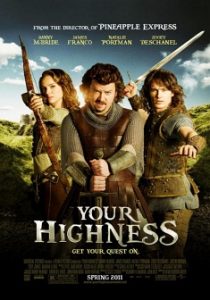 Director: David Gordon Green 
Co-stars: Danny Mcbride, James Franco, Zooey Deschanel…

US Release Date: April 8th, 2011
Filming: July-October (2009)

Natalie's Character: Isabel

Plot Summary: The film follows McBride as a slothful, egotistical prince who, along with his brother (Franco), must embark upon a heroic quest to save the kingdom and rescue his bro's fiancée. Portman plays a badass warrior princess with whom McBride's character falls madly in love.
Notes: – Mcbride has been enthusiastic about the production, "There's castles being built. There's creatures being made. I'm super excited about this. It's going to be a crazy, rated-R, ultra violent fantasy movie/comedy. This is inspired by all those early '80s sci-fi/fantasy movies like 'Deathstalker,' 'Krull,' 'Conan the Barbarian.' We have everything from stop-motion animation in it to big CG creatures to weird 'Dark Crystal'-esque puppets."
Running Time: 102 min
MPAA Rating: Rated R for strong crude and sexual content, pervasive language, nudity, violence and some drug use.

Budget: $50 million 
Gross: $21.6 million (domestic) and $25 million (worldwide)