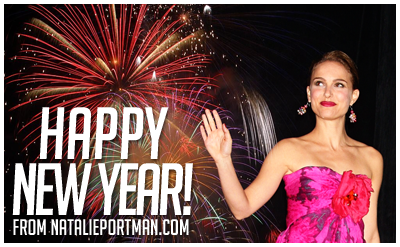 And now, the year in review. Here's all you've been missing if you've been living under a rock throughout 2009:

Pride and Prejudice and Zombies
Early in February, it was announced that Natalie would be involved in the film adaptation of Seth Grahame-Smith's novel, Pride and Prejudice and Zombies (which had not even been published at the time). As the title suggests, the basic plot is Jane Austen's Pride and Prejudice… with zombies. Most were dubious about the legitimacy of reports of Natalie's involvement in the project, however in early December, she was confirmed to be producing and starring as heroine Elizabeth Bennet. The volatile David O. Russell is rumored to be on board as screenwriter and director, but I'd take that with a grain of salt.
The 81st Academy Awards
Later in February, Natalie made an appearance at the Academy Awards, presenting the Oscar for Best Cinematography alongside Joaquin Phoenix-spoofing Ben Stiller ("You look like you work in a Hasidic meth lab," she quipped). Natalie's pretty pink Rodarte gown won her praise from fans and fashion critics alike and a solid spot on many of the year's best dressed lists.

Thor
In March, rumors swirled about Natalie being considered for a role in the film adaptation of Marvel Comics' The Mighty Thor. Much like the PPZ announcement, the general reaction was one of disbelief. Natalie's involvement was officially announced in July. She has been cast as Donald Blake's girlfriend, Jane Foster. According to IMDB, the plot revolves around "[p]artially disabled medical student Dr. Donald Blake discover[ing] his heretofore unknown alter ego, the Norse warrior, Thor." Natalie will be acting alongside newcomer Chris Hemsworth (portraying the title character) and a growing cast of notable actors. According to Natalie, she chose the role specifically because Kenneth Branagh is directing and "Kenneth Branagh doing Thor is super-weird." Fair enough.

Sean Penn scandal, or, Pics or it didn't happen
In the most ridiculous news of the year, rumors of Natalie allegedly canoodling with Sean Penn at a hotel started popping up at the end of March. As rumors usually go, Natalie and Sean went from briefly sitting at the same table together amongst company to totally making out in a private back room, you guys! Though Natalie usually manages to stay out of the tabloids, gossip rags everywhere picked up the story and ran with it. While her PR people denied the claims of an affair, the rumors picked up even more steam on the internet, accusing her of being responsible for wrecking Penn's marriage (lol forever and ever) and generally being a hussy. The gossip grew to be so malicious, Natalie herself ended up releasing a statement in attempts to put an end to it.

Hesher
Shortly after the Thor speculation began, Natalie's name and her production company, Handsomecharlie Films, became attached to Spencer Susser's indie dramedy, Hesher. It was later announced that in addition to producing, Natalie is also in the cast (which includes Joseph Gordon-Levitt and Rainn Wilson) with a supporting role as a character named Nicole. Checkout girl Nicole is the object of affection for the two main characters, JGL's antisocial Hesher and a troubled boy called T.J. The production is apparently complete and according to a recent interview, Natalie is very proud of the film.
MakingOf
In April, Natalie launched the online social network MakingOf with co-founder and CEO Christine Aylward at the Tribeca Film Festival. Devoted to aspiring filmmakers, the fledgling website contains exclusive insider info and videos pertaining to all aspects of filmmaking. With MakingOf, Natalie hopes to answer these questions: "Who are the many individuals who take part in the making of a film? What do they do? How do they do what they do? How did they get the chance to do what they do? And often: how can I do that too?" You can read more about the project here on Natalie's blog.

Whiz
This probably isn't the most important news of the year, however many fans were dying to know the name of Natalie's constant companion, a Yorkshire Terrier she adopted from a shelter last year. She finally revealed his name — Whiz — on Funny or Die's "Between Two Ferns With Zach Galifianakis." You can watch Whiz totally steal the show here. Those who missed Dazza's podcast last year can all die happy now.

Your Highness
Late in May, Variety announced that Natalie would be starring in Your Highness, an '80s fantasy homage written by Danny McBride and directed by David Gordon Green (which finally explained those pesky Suspiria remake rumors). Natalie is set to play a potty-mouthed warrior princess in her first comedic role alongside princes McBride and James Franco and princess Zooey Deschanel. The film is currently in post-production and should be out in early October.

Black Swan
Putting the final nail in the Suspiria coffin, it was announced in July that Natalie would be starring in Darren Aronofsky's ballet thriller, Black Swan. "Ballet thriller" wouldn't normally sound like anything I'd be interested in, but with Natalie and Mila Kunis starring, Aronofsky directing, and Clint Mansell scoring, I couldn't be more excited. The script has been described as original, dark, and moody and Natalie compares the film to Rosemary's Baby. Should be very interesting. Filming began in November and you can already find loads of set photos in the gallery.

New York, I Love You
New York, I Love You, an anthology film in which Natalie acted and directed, finally premiered during the fall season to little fanfare. Unlike the previous Paris, je t'aime, critics generally slammed the film for being uneven, bland, and cliché. Natalie had a role as a Hasidic bride in Mira Nair's short, which the Washington Post described as "touching." However, Natalie's own short, her directorial debut, was considered by many critics to be the weakest of the vignettes. New York, I Love You will be available on DVD and BD just in time for Valentine's Day.

Love and Other Impossible Pursuits
In September, Love and Other Impossible Pursuits premiered at the Toronto International Film Festival. Natalie is executive producer and star of the film adaption of the Ayelet Waldman novel which centers around a lawyer's relationship with her stepson. Reviews for the film have been mixed (leaning towards negative) so far. You can read our own Garcy's review here. According to Variety (who praised Natalie's performance in the film as "fearless"), Love and Other Impossible Pursuits is undergoing re-edits post-TIFF screening. The indie flick hasn't found a distributor yet so there's no telling when we'll get to see it or how wide the release will be.

Controversies
Despite being a relatively quiet year for Natalie, she faced heavy criticism from both casual observers and fans towards the end of it. A quote from an interview with Jake Gyllenhaal describing the recession as "kind of an exciting time" traveled like wildfire through weblogs in September. It was debated whether or not Natalie was optimistically looking for a silver lining amid the economic downturn or naïvely and tactlessly showing her privilege. No sooner had the drama died down when Natalie's name showed up on a petition in support of Roman Polanski in October, shocking and enraging many fans. She has yet to acknowledge the petition or speak about her stance on the very sensitive subject. Natalie faced more criticism after writing a review for Jonathan Safran Foer's Eating Animals. News headlines flashing out of context quotes claimed that Natalie Portman likens eating meat with rape, which caused some meateaters to see red. While I do find some of the wording in the analogy in her article to be a bit poor (especially fresh after Polanskigate), I think all of the ire can be chalked up to reading comprehension fail.

Brothers
Brothers, Natalie's first and only major feature film of the year, finally premiered in December after spending nearly three years in post-production. Natalie portrays the wife of a war veteran in the Jim Sheridan remake of Susanne Bier's Brødre alongside Tobey Maguire and Jake Gyllenhaal. Though film critics weren't as favorable towards the film, Brothers has been generally well reviewed, with Natalie's subtle performance as a mother trying to keep her troubled family together receiving some of the most praise. The film is currently in theaters in the United States and still debuting internationally, so don't miss it.
Things to look forward to in 2010:
After a long dry spell, Natalie has a whole boatload of films lined up for this coming year, along with (possibly) two DVD/BD releases. With lots to look forward to, 2010 will most definitely be a great year for Nat fans. Have a good one, guys!