And here's a weekly ration of tidbits for all of you…
-First of all, it seems that The Death and Life of John F. Donovan, the latest film by Xavier Dolan, has already shooting date. According to Le Journal de Quebec, the film will begin shooting on July 9, and will be located in Montreal, New York, Prague and London.
Since the filming of Annihilation would be between June and August, probably the Natalie part in the Dolan movie does not begin until August (at least). If the shooting is in several cities, it´s likely to be thereby.
-The premiere of A Tale of Love and Darkness in Poland took place yesterday, and a few interviews have emerged because of it. The first is an interview with Natalie (in Polish), where she describes the challenges in making this film:
"A story of love and darkness" delighted readers not only in Israel. It's most read book in the world Israel. You decide to just devote so important moment of your life, which is the directorial debut. What did you find it?

It is in this book so many topics! It was for me a powerful source of inspiration. This story has many different layers. There is and a great story, and a very special family triangle – mother, father and son. It is love for the language and a celebration of words, which I really love. There is also saved the moment in which was born the Hebrew language, and it was unique in the world. In magically we managed to bring back to life virtually dead language. Resurrect him. This whole book is amazing and on many levels.

Another interesting article with Slawomir Idziak, which again praise Natalie and her way of working…
And like you, who has worked with the greatest directors worked with the newcomer, which is a famous actress?

– Natalie was very open to cooperation, but at the same time responsible for every minute of the film. It has the advantage that, in my opinion, is the hallmark of great directors, she can distance herself into her own world, to their own ideas. There are directors who pursue one to one all that is in the script, they can not go beyond this range. Great directors I've worked with, they do the opposite: if they feel that the scenario is just the beginning, sketch, sometimes even moving away from it helps the film. Such was the creator of Kieslowski, who could completely change the video installation: what was in the script, and then what we saw in the cinema are two different things. And this is also a visionary director Ridley Scott, who in turn follow their visual imagination; well anyway it draws, everything is storyboardach. The true work of art has its own life, great artists not crazy on what they have in mind, just listen to what is happening, they are able to quickly adapt to what he tells them work.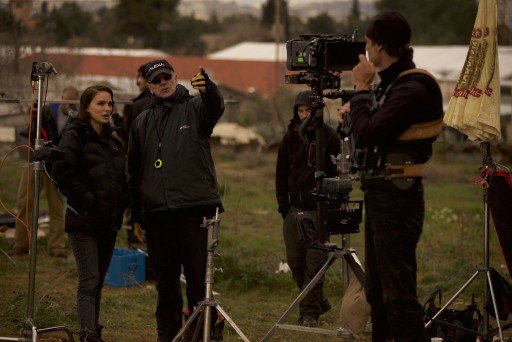 Finally, another interview with Gilad Kahana, singer and actor, starring alongside Natalie, in which he talks about the experience of making this film (thanks to Amo for the find):
The movie was actually Natalie Portman's first attempt as a director. How was it working with her, being also the screenwriter and one of the main characters in the movie?

Giland Kahana: Natalie comes to direction from being an actress herself and that gave her great grace and empathy to all the acrors on set. She gave me great freedom to improvise and when something didn't work, she always was open to suggestions, but always focused on her vector. But I have to admitt: the fact that she is a workaholic and super sharp, gave me the assurance that this is the place to be! It was a real pleasure working with her.