August is coming to an end, and fall festivals are just around the corner. Jackie and Planetarium will premiere both in Venice and Toronto, and the latter has released its final schedule today: the two films can be seen on September 10 and 11 in TIFF, and Natalie is confirmed on the guest list.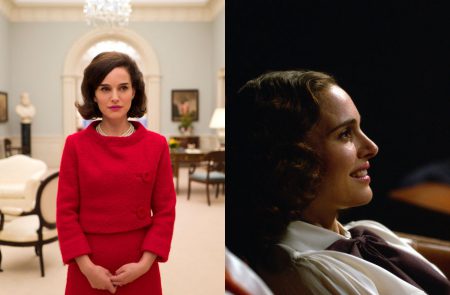 Also, synopses of both films were updated on the festival site, giving us interesting details about the plot, especially in the case of Jackie.
More after the jump:
Jackie Synopsis:
Provocative Chilean director Pablo Larraín (Tony Manero, No) depicts the events leading up to and following the assassination of JFK through the eyes of Jacqueline Bouvier Kennedy (Natalie Portman).

The assassination of John F. Kennedy in 1963 was one of those moments that defined a generation. That this handsome, charismatic leader with a beautiful wife and two young children could have his life ended so brutally defied comprehension.

With Jackie, Pablo Larraín makes a brave choice by retelling this story solely through the eyes of Jacqueline Kennedy, casting Natalie Portman in a lead performance that is deeply intelligent and carefully measured. Jackie was as romantic a public figure as her husband, an outwardly poised partner who was placed under great scrutiny yet played her role with consummate grace. Structuring his film around Theodore H. White's LIFE magazine interview with the First Lady at Hyannis Port a mere week after the assassination, Larraín plunges us into the devastation using a series of finely crafted flashbacks that cover the fateful day in Dallas, Jackie's return to the White House, arrangements for the President's funeral, and her time spent accompanying her husband's coffin to Arlington Cemetery.

These sequences complete a moving portrait of a grieving woman — a widow and mother struggling with overwhelming tragedy and attention. Yet the core of the film is formed by quiet, profoundly intimate moments: Jackie's conversations with her children, her brother-in-law Robert Kennedy (Peter Sarsgaard, also at the Festival in The Magnificent Seven), one of her aides (Greta Gerwig), journalist White (Billy Crudup), and a Catholic priest (John Hurt).

With the utmost care and restraint, Larraín depicts one half of the couple who inhabited America's short-lived but still mythic time of "Camelot" — the woman who, in fact, coined that very expression. The director has moved beyond his native Chile to deliver a magnificent recreation of a defining moment in US politics and lore, and the woman we all knew as Jackie.
Planetarium Synopsis:
In 1930s France, two sisters (Natalie Portman and Lily-Rose Depp) who perform as supernatural mediums cross paths with a visionary film producer.

Natalie Portman and Lily-Rose Depp star in this eerie wonder from visionary French director Rebecca Zlotowski (Grand Central). A film about speaking to spirits and crafting grand spectacles, Planetarium is itself an otherworldly spectacle — one that lures us into a seductive twilight realm of mystery and secrets.

Returning to one of the themes that distinguished her remarkable 2010 directorial debut, Belle épine, Zlotowski gives us in Planetarium another story of young women seeking to define themselves on their own terms.

The setting is Paris in the 1930s, where two sisters, American spiritualists Laura (Portman, who also appears at this year's Festival in Jackie) and Kate Barlow (Depp), are winding up a world tour. Seemingly adept at communicating with the dead, the women are somewhat less experienced with the business of the living. Nevertheless, their astonishing exhibit of apparently supernatural powers piques the interest of powerful French film producer André Korben (Emmanuel Salinger), who retains their strange talents for his wildly ambitious new film project. Laura and Kate are soon swept up in a scheme that, fusing art and the occult, portends a dark shadow soon to be cast over all of Europe.

Zlotowski's sensitivity to the experience of her female characters is complemented by the performances of her bewitching leads — Portman hasn't displayed such an alluring dark side since Black Swan, and Depp channels her character like a spiritual medium.

Lyrical and dreamlike, Planetarium immerses us in a world where, as with cinema itself, reality and illusion intermingle until it's nearly impossible to discern between the two.
Probably in the coming days we can learn more details about these two anticipated films…