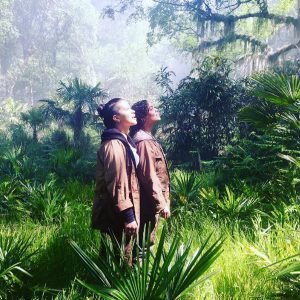 Finally we hear from Annihilation, Alex Garland's next film as director after his acclaimed Ex Machina. Paramount has revealed the first images of the movie in the CinemaCon today. The Wrap and The Tracking Board have a description of the footage:
Writer-director Alex Garland's follow-up to Ex Machina looked absolutely dynamite, highlighted by a sequence in which Portman's husband (Oscar Isaac) returns home from a covert mission, only to begin coughing up blood. En route to the hospital, the ambulance is pulled over by military officials and the couple are separated again, with Portman waking up to find a psychiatrist played by Jennifer Jason Leigh doing her best to explain what's going on.

Based on the novel by Jeff VanderMeer, Annihilation looks like a chilling, highly original sci-fi movie bolstered by a fantastic female cast that also includes Gina Rodriguez, Tessa Thompson and Swedish actress Tuva Novotny. Giving audiences a nice taste of the story while still retaining an air of mystery, this trailer is going to set the internet on fire upon release.
Unfortunately, it seems to confirm that the film pushed back its release from 2017 to 2018, so we will have to wait until next year to see the movie. We hope, however, that we can see some photos or a trailer to make more bearable the wait…