We still have no relevant news … but here we have a few tidbits.
-A few days ago, Mimi Leder, director of Deep Impact or series like Shameless or The Leftovers, confirmed to Screencrush that is going to direct "On the Basis of Sex", the Ruth Bader Ginsburg biopic. The movie still has no filming dates, but presumably it will be one of the next Natalie's projects.
-Song to Song, Natalie's latest movie, will be released on Blu-Ray, DVD and UltraHD on July 4th. It will be the first film of the actress that can be seen in 4K in domestic format. This is the provisional cover: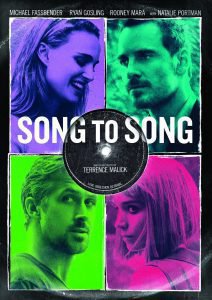 -Finally, Film School Rejects has an interesting article about Black Swan. Undoubtedly the movie by Darren Aronofsky is still remembered, seven years after its release.