Another day, another interview, this time for Madame Figaro. Natalie talks about her heroines in real life, her time in Australia during the filming of Thor, Dior and more. After the jump, we have a rough translation. Also a new photo from Miss Dior photo shoot: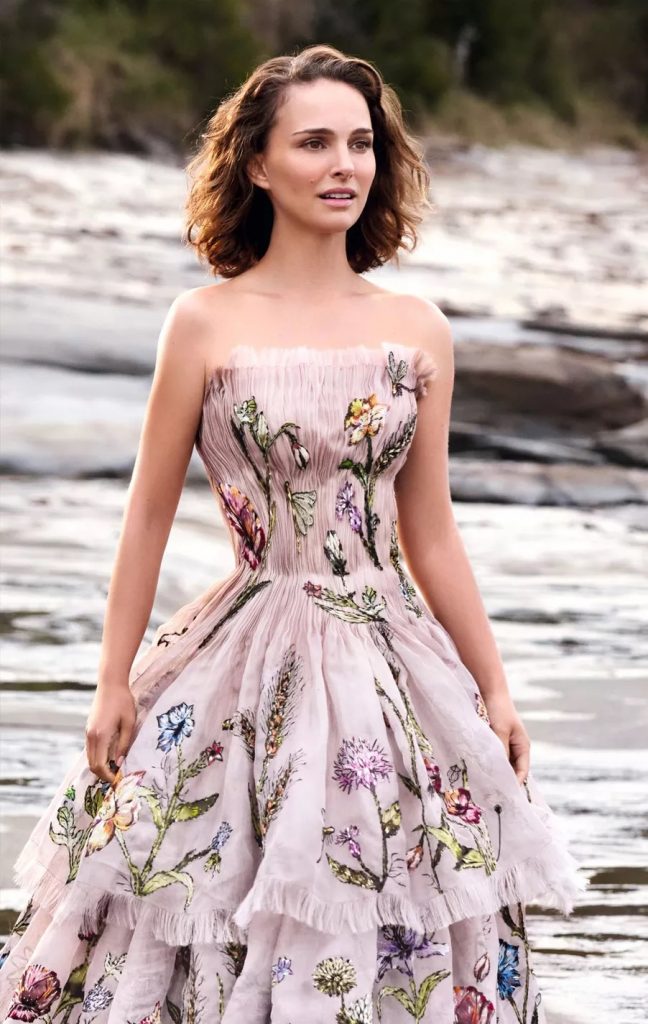 It's 6 p.m. in Sydney, and night has already fallen. "It's almost winter here. My garden is immersed in a fantastic Tim Burton light, she says. The Israeli-American actress and producer, Oscar winner for Black Swan, has lived in Australia for over a year with her family (her two children and her husband, choreographer Benjamin Millepied). A necessity for the filming of Thor: Love and Thunder, the fourth installment of the Thor saga, in which she plays the astrophysicist Jane Foster, a superheroine from the Marvel universe. The star feels good there, connected to nature, and it is in fact in the awe-inspiring Australian landscapes that the campaign for the new Miss Dior fragrance, of which she is the face, was filmed. Hollywood has never managed to format this New Yorker born in Jerusalem, graduated in psychology at Havard, who began her career at age 13 in Leon, by Luc Besson.
Natalie Portman follows her path as she sees fit, alternating blockbusters and demanding author films, until she directs (A Tale of Love and Darkness). A course without mistakes. This asserted freedom is also expressed through its commitments. Figure of the Time's Up movement against sexual harassment in Hollywood, the actress also campaigns for other causes: environmental protection, education, the fight against poverty (through the association WE Charity), the gender equality. Conversation with a cerebral, involved and sensitive actress.
What inspires you about the astrophysicist with the superpowers of the Thor saga?
I'm always happy when the main character in a blockbuster is a woman. The more superheroes there are in the movies, the better, because these characters, although imaginary, represent something from our world that needs to be highlighted: women scientists, for example. They are still too under-represented in our society.
Why do we see more and more "badass" heroines, seasoned, strong, rebellious women?
It is important to show all the facets of a woman, as well as the multiple roles she embodies in her life. There are so many of them, it pays to be a "badass" sometimes! But my superheroes are real women: Frances McDormand, an actress who dazzles me with her choices; Beyoncé, who gives me courage when I see her sing; and then Iranian videographer and photographer Shirin Neshat, because she is one of those artists who show us, through their culture, other ways of being a woman.
Your collaboration with Dior has lasted for ten years. What are the reasons for this long and beautiful story?
I am proud to contribute to the image of the Dior house, because it truly supports women in their quest for freedom. I love the messages she carries, the beauty and depth of her campaigns. They highlight the sensuality and strength of a modern woman. They tell us that we all have the right to have a voice and an individuality. And then, I love the magical side of Dior perfumes and the floral sweetness of the new Miss Dior fragrance, its palette of emotions. It's haute couture, but in a bottle!
What values ​​do you support through the #DiorChinUp program?
This initiative shines the light of committed women who walk forward with their heads held high and bear witness to their history. Inspiring women: writers, surgeons, photographers, actresses … Telling our experiences so different unites us and helps us to come out of terrible and widespread realities, such as oppression, mistreatment and abuse, which can be exercised in very different ways. different.
You are also one of the leaders of the Time's Up movement, dedicated to harassed and raped women, which was created in support of MeToo …
It is important for me to be part of this foundation, because it concerns my profession closely. I've been working in film since I was 13, and I feel like we've finally come to a turning point. We have taken power to change what deeply bothers us in this industry. I want women to be represented in front of and behind the camera on a par with men. Women directors have difficulties in integrating festivals, in getting their films marketed, in obtaining distinctions. I also fight to ensure that we are rewarded, paid and treated at our fair value.
Often definitions of feminism leave out many nuances, such as that of inclusive feminism. What do you think ?
It's true. Discrimination can be racial, it can be based on an idea of ​​beauty, on gender. Forms of oppression often arise from the desire to abolish otherness. There are so many of them that even when you think you have been a victim of one, which I am, you have to be able to listen to what another person can bring through their experience. Feminism today is changing its face: its meaning is broader because it encompasses many more identities.
Is the common sense of female beauty also changing?
Absoutely. New models of beauty are emerging. They celebrate more individual beauty, based on the blossoming of the person. We are beautiful when we are in tune with ourselves. You can be beautiful without necessarily fitting a box today. This was not the case when I was a child. And I appreciate this change so much.
How can art help change thinking?
Since the pandemic, I have realized even more the importance of the role of art in our society. Art brings joy and light. It enlightens us, especially in this difficult context. Life has become so scary and dark since the health crisis that I need to get away from it all. Inspiration I find through all art forms.
How did you experience the period of confinement?
I felt confronted with mortality, with the existential crisis of the West … like most of us. This period has made me appreciate more the time I spend with those I love. With my children, for example, who gave birth to my creativity so much, especially through the games we play together. I've also had conversations with writers I admire on Instagram. I read and put my creativity to work in writing and cooking. And since I started filming again, I appreciate so much that I can be an actress again.