Long-time fans of Natalie Portman will know that she has always been averse to social media. While other celebrities leveraged the online world to raise the profile and boost their brands, Natalie preferred to fly under the radar.
Now, there's every chance that Natalie had, and has, a private Instagram account – I've seen some fairly compelling evidence during the time she was living in France – but the idea of her opening a window to the world seemed highly unlikely.
This all changed on January 1st, 2018, when Natalie made her first post to the official, verified and fully-authentic Instagram account in her name.
For someone who resisted not just social media engagement but also fan engagement via an official website or fan mail, this was a genuine shock. In fact, many long-time Natalie fans assumed it was fake.
But within a short period of time that blue checkmark appeared to verify the account and she was able to update the account name to @NataliePortman.
Natalie's 19 Best Posts From Her First 19 Months on Instagram
Now a year and a half into this social experiment and she seems to still be enjoying the platform, and her 4.5 million followers can certainly say the same.
Below are my favourite posts thus far, in no particular order.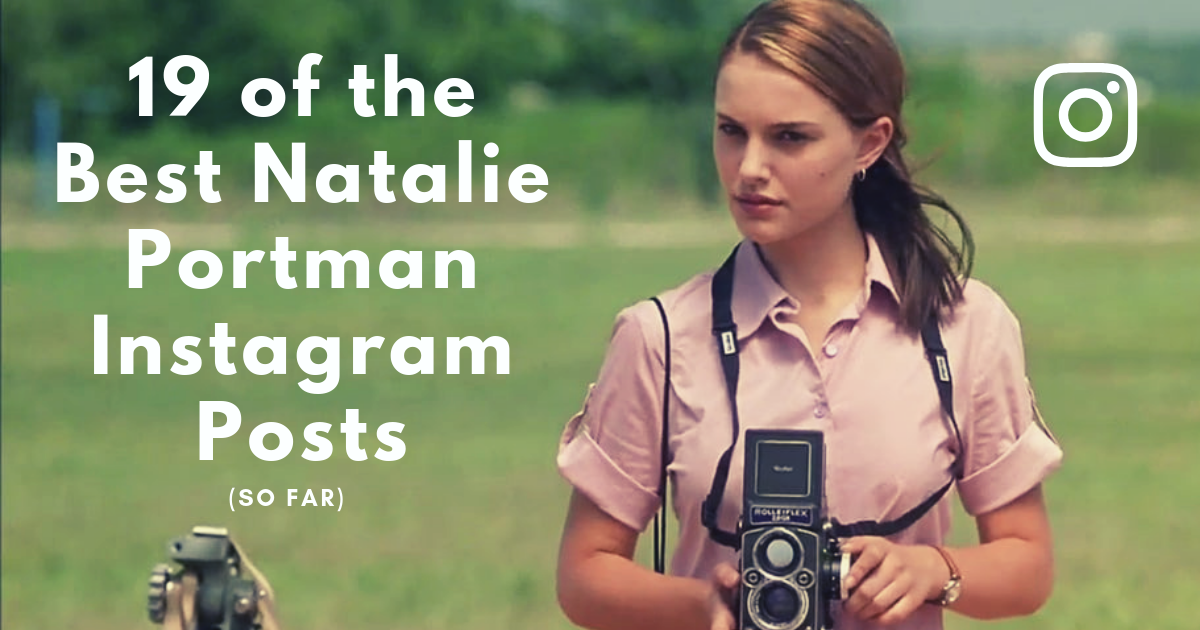 1 – Time's Up
Natalie's first posts were focused on #TimesUp, and it could be argued that this movement and other social causes may be the reason why she set up her account.
This gif, with Eva Longoria, was the first post that included an image of Natalie and it was worth the wait. Adorable to the extreme!
2 – Supporting USWNT
Occasionally Natalie will appear at a sporting event for basketball, tennis and even football/soccer. But she's never been as supportive as she was with Jessica Chastain, Eva Longoria, Uzo Aduba, and Jennifer Garner as the ladies threw their support behind the women's national football team.
3 – Hyping SNL
Natalie's return to SNL was highly-anticipated and this promo, shared to her Instagram followers, certainly got everyone tuning in for another epic musical performance.
4 – Assplay
Speaking of SNL, we won't soon forget this memorable post, will we?
5 – Amos Oz Tribute
On a more sombre note, this Instagram post features a very moving tribute to author Amos Oz, whose book Natalie adapted into A Tale of Love and Darkness and who sadly passed away. His work and his humanity have clearly had a powerful impact on Natalie and our hearts break for her loss.
6 – For the Kids
The tears keep coming with this mult-photo post from Natalie Portman's visit to Children's Hospital LA. Natalie has a long history with the hospital and it's heart-warming seeing the impact she has on these kids 😭
7 – Natalie Portman: Hot Stuff
Tears of a different kind this time as Natalie tackles spicey (vegan) wings in her incredible appearance on Hot Ones. The interview was incredible and this Instagram video gives you a taste of the fun that was had.
Gotta say, she handled it really well. Tough lady! I would have been crying on the floor after the first level of heat.
8 – Chow Down
We're sticking with the food theme for number eight, as Natalie tackles an epic vegan burrito. Her ability to laugh at herself is definitely one of her best characteristics, don't you think?
9 – Wes Anderson
After a meal one needs a toothpick and Natalie's character in The Darjeeling Limited and Hotel Chevalier (the accompanying short film) always has a 'pick handy.
This choice is pretty simple. I love love love Hotel Chevalier and this image, so Natalie posting it gives me hope that one day she may reenter director Wes Anderson's kooky world again.
10 – Voting Day
Natalie encouraged followers to vote on voting day for the mid-terms in the U.S. with this video and the promise to feature voters on her Instagram Stories feed. Not everyone likes celebrities being vocal about politics, but many also feel it's a waste of a platform to not use your visibility to fight for what you believe.
Either way, when you follow Natalie Portman on Instagram you better make peace with her wearing politics on her sleeve.
11 – Books!
Natalie sure loves reading and a common Instagram post is like the one below, a shot of the book with her eyes peeking over the top imploring us to seek it out. Natalie Portman Book Club? I'd be down with that.
12 – Wearing Black
Another powerful video message from Natalie, this time in support of Time's Up. There was also a photo with a message supporting Dr. Blasey Ford during the heated public debate over accusations levied at Supreme Court Justice Brett Kavanaugh.
13 – Anne Frank
Before Natalie joined Star Wars she played Anne Frank on Broadway. She posted this photo of her teenage self visiting Anne Frank's house, along with a beautiful message.
14 – Ben
I remember when Natalie and Benjamin Millepied got together and people were saying it wouldn't last. A marriage, two kids and a decade later – here is some egg for your face.
Really sweet Insta-post from Natalie showing love for her man.
15 – Double Date
And if you wanted to go on a double date with the couple, this announcement offering the opportunity to do so was incredibly surprising. No doubt there was a lot of vetting of the winner, but still, this is far from the uber-private Natalie we had come to know prior to her setting up her Insta account.
16 – Leon the Professional
If you thought we'd get through this list without a mention of Mathilda, you don't know me at all…
17 – Snack Time
We're almost at the end of this list so it's probably time for another food post, this time vegan dimsum from her recent visit to Shanghai. A slightly easier bite than the burrito but another classic Natalie Portman eating photo.
18 – WE
Whether it's FINCA, Shoes4Africa or WE.org – Natalie has always had a strong philanthropic interest in Africa. This post is from a recent visit to Kenya for WE and if it doesn't make you smile, you might be broken.
19 – Female Thor
I saved the most recent news for last, Natalie wielding Mojnir at San Diego Comic Con. It was a surprise nobody saw coming but I can't wait to see what awaits in Taika Watiti's next Thor film.
The best part of the post?
Natalie's promise: " Remember this as the before picture for when I get jacked."
So, did I hit your favourites? What Natalie Portman Instagram posts did I miss? Let us know in the comments.
What About Other Social Media Channels?
Is Natalie Portman on Twitter?
No, Natalie is not on Twitter. If she is then certainly not in an official capacity. Although there are more than enough fakes out there to choose from. If you're jonzing for Natalie Portman content on Twitter then you're going to have to just follow our Twitter account.
Is Natalie Portman on Facebook?
Natalie's input on the script development of The Social Network aside, she does not have an official Facebook presence – although around a decade ago she did promote a Facebook page with FINCA, although I'm struggling to remember the details.
Is Natalie Portman on Snapchat, LinkedIn, Tik Tok?
No, no, and hell no.