Natalie gave an interview for The Sunday Times's culture magazine this weekend, and while she essentially says nothing new that we have not read in other articles, there are some interesting quotes. The List collects some of them. Here are a few: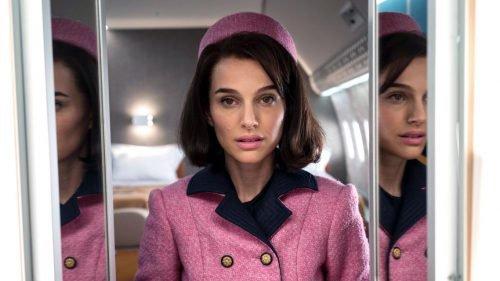 About her "big roles":
She seems quite unaffected by the prospect of an Oscar. When I venture that Jackie might be the biggest role of her career, she looks mildly surprised. "Oh thanks," she mutters lightly. "I dunno, I can't judge myself."

When pressed, she will say that her greatest strength is her openness to failure. "I have done roles I have failed at — believe me, there are plenty of bad reviews out there."
On making movies and her profession:
Has it changed the way she thinks about her profession, about what purpose film might serve?

"I think film-making, and storytelling in general, is always inherently political, because you're asking people to care about another human being for many hours of their life. And for films, it's usually in a communal environment — it's sitting together and caring about someone together — so it serves as a sort of practice of empathy."

Jackie, she believes, meets these criteria: "It lets you into the heart and mind of a woman in a way you don't often get to see on film."
On the roles of women in films…
In 2015, Portman made her directorial debut with A Tale of Love and Darkness, a warmly received adaptation of Amos Oz's autobiographical novel about growing up in the early years of the State of Israel. In doing so, she joined the still disproportionately small ranks of female filmmakers. Recently, she spoke with exasperation about how many movies are made by straight white men.

"I don't have a problem with that point of view," she clarifies, "because it is a totally legitimate point of view — I'm glad to get insight into how straight white male minds work. It's just that we're not having other points of view. As a female audience member, it's really hard for me to watch these movies where women don't exist. There are so many movies where it's literally 20 men and no female character, or there's a female character who's, like, the wife on the phone. I'm kind of not interested in watching it!" she laughs.
On the media attention on the actors:
Much like first ladies, Oscar-winning actresses tend to be idolised, scrutinised, often demonised; they are made to mean too much. Portman resists the comparison. "I'm not sure I define my own responsibility in the same way, because I'm not a politician or a politician's wife, I don't represent something for a country, you know? So I feel a little bit more of a right to do whatever I need to do privately. I'm not sure the private side of someone's life needs to be shared, because it doesn't serve a purpose for the public. Whereas a president's private life does — it's part of the public's history."