What better start to the week than with a few Tidbits…
-Natalie will be at the Dreamforce Conference this Wenesday to attend the Equality Summit: The Path to Equal Pay, in which she will talk about the pay gap in Hollywood and her own personal experience with pay disparity: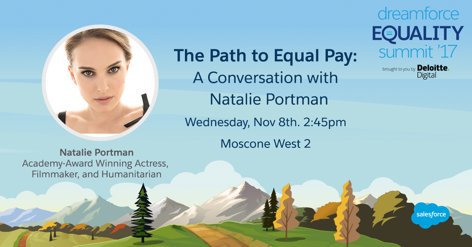 –Elle Belgium has an interview (in French) with Natalie this month, held at the Château de La Colle Noire last summer, in which she talks about her vegan diet and beauty secrets.
–Eating Animals, the documentary produced by Natalie, and presented at the Telluride festival, will have its New York premiere during DOC NYC next Friday. Director Christopher Quinn will attend the screening. Natalie can not be there because she will be on the west coast honoring Amy Adams in the American Cinematheque Awards.
–Annihilation will be Natalie's next film to be released in theaters. There are still three months left for its premiere on February 23. Waiting to see more promotional material, here we have a nice quote to the film (and Natalie) by Jennifer Jason-Leigh:
You also have Annihilation, coming out in February 2018. What was it like to work with Alex Garland? Had you been a fan of Ex Machina?

LEIGH: Oh, yeah, I loved Ex Machina. I watched it twice in a row. It was so much fun. I love sci-fi. He was great. He's a really sweet guy. The script was really surreal. I haven't seen the finished film, but I'm excited. I loved working with Natalie Portman, and the rest of the cast. Natalie is just so good, so it was exciting to work with her. We were all out in the wilderness. We weren't that far from Pinewood, but it felt like the jungle. It's gonna be fun.