Today's tidbits are positively supercharged.
– Let's start with a video of Natalie's appearance at the Vanity Fair Oscar afterparty. It's short and you can barely make out Natalie, but I assume it's her because…well, you'll see 😛
– On the subject of that appearance, this site has the info on Natalie's bead earrings. I could have saved this for another edition of getting the Natalie Portman style, but I suspect there aren't too many visitors who would be willing to drop $150k on a pair of earrings 😛
– Finally, one of the best things that can happen to you would be to drive and look over and see Natalie Portman in the car next to you. Of course this could soon turn into the worst thing that could happen to you as you then mow over an old lady crossing the street. I'm not sure if any granny's were killed but this photo was posted to Twitter.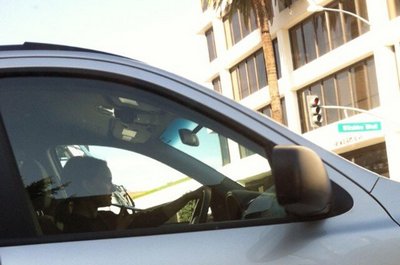 Thanks to Kitten, Fanatical and Ming Choo.