&nbsp
yay
so it's finally that time of year again when Natalie Portman, the subject of our affection, turns a year older. and to celebrate we take a week off from what we were doing and say PORTMANIA a lot.  it's PORTMANIA XVI.
Is that right? XVI? can we just call it 16?
come inside and you can find out just what it is we do around here.
why, we PORTMANIA, DUDES!!!
this year Natalie is XXXIII. that's I more than last year's XXXII.  which is I less than this years!!  COINCEDENCE?!?!
did I do this schtick with the X's and I's before?  it seems familiar… or maybe its just PORTMANIA being a warm comfy blanket of a time of year where everything is safe and familiar! it's fine because being original goes against everything PORTMANIA stands FOR!!!
speaking of original that opening number up there with Natalie falling into the flowers was made a few years ago by someone!!  and/or last year? someone made it and you should go look up who did it?
maybe it was Ana?
HA! I JUST checked and it was.
Ana made a new one for this year but I can't put it up because I don't know what i'm doing. the new picture will feature in a FUTURE PORTMANIA DAY. or later tonight?!? it depends on if I eat Spaghetti-O's.
BREAKING NEWS!!! I've eaten my spaghetti-o's and now I can put up Ana's NEW WALLPAPER.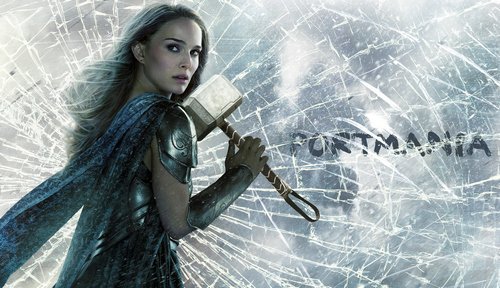 HOW SHE CARRY THAT HAMMER?!
thank you ANA.
also last year it looks like I called Ana a girl and I don't remember if I ever confirmed that or not.  maybe I just assumed because of how feminine it sounds. Ana, if you are a man, I apologize! if you're a woman I don't apologize and would like to add "How you doing?"
so… anyone have any suggestions for topics of this PORTMANIA? or pictures to make and games to play?  one year a guy made a crossword puzzle or something. that was crazy.
hello?
here's something we can do… Netflix has a few Natalie Portman movies on there.  we have our choice of…
BEAUTIFUL GIRLS
THE OTHER WOMAN
NEW YORK I LOVE YOU
FREE ZONE
I THINK THAT'S IT…
and now i'm not sure if it's New York I Love You or Paris je t'aime.
also. HBO has Anywhere But Here and Where the Heart Is. …at least it did.
oh well. you decide what movie to watch!!!  THIS WEEK ON PORTMANIA!!!
WELL. that was a fun day one?  what can we do for day two?  where will we be on day three?  what more for day four?  will day five suck? what's in the mix for day six? something about heaven day seven? STAY TUNED for the rest of the week!! YOU'RE THE MAN NOW DOG.
REPEATING PORTMANIA