This update contains some really big, Natalie world shifting news. However, at the same time, if we really think about it, this change has already occurred and we've experiencing it for awhile.
So let's back up a bit. We know that Natalie has moved to Paris with her family. Given how little acting work she's done since her Oscar win, and that she's committed this year to completing her first feature film, we also know that her professional focus may have shifted. And it wasn't that long ago that we heard she was looking for representation in Europe.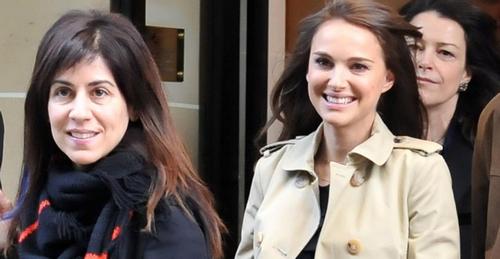 So the news that Natalie has joined premier French agency, Adéquat (is that name ironic?), should not be that big of a shock. What is a surprise is that Natalie is parting ways with long time business partner and manager, Aleen Keshishian. Aleen met Natalie when she auditioned for the Kirsten Dunst part in Interview With A Vampire, and soon after that became her manager. She has been with Natalie from day 1 and is responsible for among other things, Natalie taking on the name "Portman" instead of her birth name, and for taking a chance on SNL.
If you're worried that there has been a falling out, fear not. The move is surely one of practicalities, as Natalie now focuses more on Europe, and Aleen will continue to manage Natalie's brand and commercial interests.
So where does this leave Natalie? Well, Deadline's story suggests a career path that focuses on European films, writing and directing, and the occasional Hollywood film.
Personally, I'm really excited to see the type of films she'll be doing next, but am sure not everyone will feel the same way. Keep an eye out for an upcoming poll on the topic 😛