The clock just struck midnight here in Texas, and it's time to close out 2014 with the annual end-of-year recap. It was another quiet year for Natalie, and I have to admit that even I kind of zoned out. Without further delay, join me on a trip down memory lane.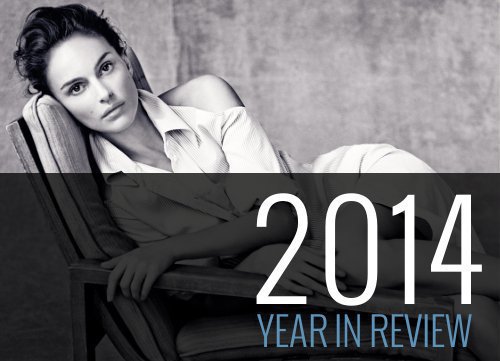 A Tale of Love and Darkness
At the beginning of the year, pre-production for Natalie's adaption of Amos Oz's A Tale of Love and Darkness began in Israel. She started shooting in Jerusalem's Nahlaot district in early February, where she was photographed in costume, confirming that Natalie will be starring in the film as Oz's mother in addition to producing and directing. Filming wrapped in late March and a promotional poster was leaked in August. No word yet on when and where the film will be released, but it might be safe to say we'll see it before Jane Got a Gun…
More Dior
In January, Natalie starred in an ad campaign for the new Miss Dior Blooming Bouquet eau de toilette (in which the behind-the-scenes shots were arguably more interesting than the uninspired print ads). She appeared in a campaign for Diorskin Star foundation in July (a brand new photo shoot), followed by a campaign for Rouge Dior Baume in August (another rehash of a previous campaign).
Jane Got a Gun Shuffle
News broke at the end of April that Natalie's red-headed stepchild Jane Got A Gun was moving from 29 August 2014 to 20 February 2015. As the new release date neared (and just as fans started wondering if there would be any promotion for film) the date was pushed back another six months to 4 September 2015. Based on early reviews, I'm not sure if it's even going to be worth the wait.
Shanghai International Film Festival
In June, Natalie made her first, biggest, and strangest public appearance of the year during the Shanghai International Film Festival in China. Natalie attended the Miss Dior Exhibition, followed by one of the most awkward press conferences ever the next day (I don't think even Natalie knew why she was there). She appeared to walk the length of the Shanghai International Film Festival red carpet alone (???) before closing out the festival at the awards ceremony.
Natalie Parts Ways with Aleen Keshishian
It came as a surprise to many when Deadline announced in July that Natalie was parting ways with her long-time manager, Aleen Keshishian. Though she will no longer be managing Natalie's acting career, Keshishian will still be involved with her branding. As part of her move to Paris, Natalie has joined French talent agency Adéquat. The reaction from fans was very mixed, leading to an interesting debate in our comments section.
Knight of Cups
After being taunted for months with false rumors of Terrence Malick's Knight of Cups landing the 2014 film festival circuit, it was finally confirmed for a debut at the 65th Berlinale Film Festival this coming February. With the announcement came a full-length trailer and a synopsis for the long-awaited film. Fans worried that she would wind up on Malick's cutting room floor can breathe a sigh of relief: Natalie stars as one of Christian Bale's many lovers. It was also revealed that Natalie will be playing a completely different character in Malick's other upcoming film, now titled Project V.
Honorable Mentions
Natalie's move to Paris with husband Benjamin Millepied and their son. Natalie's one and only fashion editorial of the year for Dior Magazine. Natalie being honored by LA Children's Hospital (where she has volunteered since 2008) with the Courage To Care award. Natalie joining Jennifer Connelly in presenting Darren Aronofsky with a Maverick Award at the Woodstock Film Festival. Natalie's candid and heartfelt thoughts on the late Mike Nichols.
Did I miss anything? What are you looking forward to most in the new year?