We're ringing in 2016 with our annual end-of-year recap. Hopefully our next year in review will not be quite as sparse, as we have a few more new Natalie film releases to look forward to. Let's get started.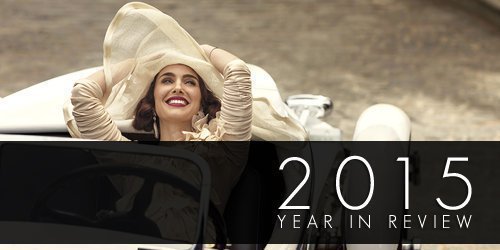 Jane Got a Gun
The year 2015 has come and gone, and Natalie's perpetually in crisis western still hasn't been released. In a repeat of the previous year, the film was continually pushed back and delayed. Jane Got a Gun was nearly doomed by former-distributor Relativity Media's financial woes mid-year before it was mercifully extricated and purchased by The Weinstein Co. The film's French premiere was delayed out of respect for the tragedy in Paris. We finally got to see some promotional material for the film towards the end of the year, including a poster, stills, and several trailers. Reviews from early screenings are still lukewarm. The film premieres in Germany today, and France and the US will get to see the film in late January. Hold your breath (or not).
Knight of Cups & Weightless
Terrence Malick's Knight of Cups premiered at the 65th Berlin International Film Festival and received a special screening during the Cannes Film Festival. Reviews were predictably mixed (currently sitting at an even 50% on Rotten Tomatoes). You can read Dazza's own mixed review here. While it's opened almost everywhere else, Knight of Cups won't be released in the US until March 2016. Malick's other Natalie-starring project (originally titled Lawless) has been given a new working title: Weightless. Maybe.
A Tale of Love and Darkness
Natalie's film adaptation of Amos Oz's A Tale of Love and Darkness (which she wrote, directed, and stars in) premiered at Cannes and screened at the Toronto International Film Festival to mixed reviews (also at 50% on the Tomatometer). However, reviews following the film's September opening in Jerusalem were much more positive. Our own Andreas' review is also quite positive. A trailer showcasing the film's beautiful cinematography arrived, along with some equally beautiful production stills.
Upcoming Projects
May was a great month to be a Natalie fan with the announcement of FOUR new movie roles. She will be portraying the biologist in the Alex Garland adaptation of Jeff VanderMeer's Annihilation. The sci-fi/horror is set to begin shooting this April. Natalie has also signed on to star in the Ruth Bader Ginsburg biopic, On The Basis of Sex, to be directed by Marielle Heller. She was cast as look-a-like Lily Rose Depp's sister in Planetarium, a French period film directed by Rebecca Zlotowski. Natalie filmed Planetarium in Paris in September. Almost as soon as filming wrapped, she stepped onto the set of Jackie, where she's playing the titular role of Jacqueline Kennedy. The biopic is being directed by Pablo Larraín and produced by Darren Aronofsky.
Dior Campaigns
Natalie has been the face of Christian Dior's Miss Dior since 2012 and her reign doesn't look to be stopping anytime soon. This year she was featured in campaigns for Dior Nude Air and Rouge Dior Brilliant, and starred as a runaway bride in an Anton Corbijn-directed commercial for the Miss Dior fragrance. She was snapped shooting a new advertisement in Paris later in the year, presumably for an upcoming Rouge Dior campaign. We most recently got a look at her 2016 print ad for Diorskin Forever.
Honorable Mentions
In January, Natalie took a ME to WE trip to Kenya as part of her role as an ambassador for Free The Children and met with the young women she supported at the Kisaruni All-Girls Secondary School.
Apparently Natalie took part in James Franco's UCLA film project The Heyday of Insensitive Bastards. There's a film clip online. I don't know much else.
The Natalie-produced documentary The Seventh Fire premiered at Berlinale.
Natalie's heartfelt and insightful commencement speech at her alma mater is a must-watch if you missed it.
Natalie hosted the John Williams celebration episode of PBS's Great Performances series. It was kinda awkward.
Handsomecharlie Films production Pride and Prejudice and Zombies is finally out of developmental hell and has a trailer.
Natalie faced some controversy for her criticism of the Jewish community and her homeland's right-wing politics in an interview in The Independent.
We still don't know if she's doing Thor: Ragnarok.
That's it! I hope everyone has a wonderful new year. What upcoming Natalie film are you most looking forward to?