In case you missed it, here's Natalie's entire interview with Carrie Buckle for Grazia Middle East, plus a (sort of) new photo from the Paolo Roversi shoot. Thanks to Kitten, via moon-light-world.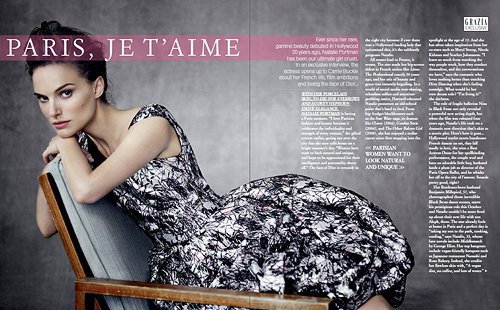 With her porcelain skin, to-die-for eyebrows and Audrey Hepburn-esque elegance, Natalie Portman is having a Paris moment. "I love Parisian fashion and beauty because it celebrates the individuality and strength of every woman," the gifted actress smiles, gazing out over the city that she now calls home on a bright summer's day. "Women here want to look natural and unique, and hope to be appreciated for their intelligence and personality above all." The face of Dior is certainly in the right city because if ever there was a Hollywood leading lady that epitomised this, it's the sublimely gorgeous Natalie.

All routes lead to France, it seems. The star made her big-screen debut in French action film Léon: The Professional exactly 20 years ago, and her mix of beauty and grace was instantly beguiling. In a world of social media over-sharing, relentless selfies and attention-grabbing antics, Harvard-educated Natalie possesses an old-school poise that's hard to find. From big-budget blockbusters such as the Star Wars saga, to dramas like Closer (2004), Garden State (2004), and The Other Boleyn Girl (2008), she has enjoyed a stellar career since first stepping into the spotlight at the age of 12. And she has often taken inspiration from her co-stars such as Meryl Streep, Nicole Kidman and Scarlett Johansson. "I learn so much from watching the way people work, how they conduct themselves, and the conversations we have," says the romatic who loves nothing better than watching Dirty Dancing when she's feeling nostalgic. What would be her dream role? "I'm living it!" she declares.

The role of fragile ballerina Nina in Black Swan not only revealed a powerful new acting depth, but when the film was released four years ago, Natalie's life took on a dramatic new direction that's akin to a movie plot. Here's how it goes… Hollywood starlet meets handsome French dancer on set, they fall madly in love, she wins a Best Actress Oscar for her spellbinding performance, the couple wed and have an adorable little boy, husband lands a plum job as director of the Paris Opera Ballet, and he whisks her off to the city of l'amour. Sounds pretty good, right?

Her Bordeaux-born husband Benjamin Millepied, 37, who choreographed those incredible Black Swan dance scenes, starts his prestigious role this October and Natalie couldn't be more fired up about their new life with son Aleph, three. The star already feels at home in Paris and a perfect day is "taking my son to the park, cooking, reading," says Natalie, 33, whose fave novels include Middlemarch by George Eliot. Her top hangouts include vegan-friendly hotspots such as Japanese restaurant Nanashi and Rose Bakery. Indeed, she credits her flawless skin with, "A vegan diet, no coffee, and lots of water."

With the release of Black Swan, Natalie also became the face of Dior, a partnership that is pure perfection. "I remember when I first met the team. I remember the elegant simplicity of the Dior environment — the grey and white Parisian dream," she reflects. "Dior is at the same time very chic and very modern." She's starred in several stunning campaigns for the brand, including the Miss Dior fragrance. "I loved our last commercial shoot [for Miss Dior Blooming Bouquet], where every room was filled with pink peonies — my favourite flower. It was so over-the-top luxurious," she recalls dreamily.

The opportunity to work with Dior is something she doesn't take for granted. "It's a great honour," she says. "Every time the team comes and asks me about a new project, I'm excited to talk about it. We have built a great relationship based on trust. I am very happy to continue this journey." She's a huge fan of Raf Simons, who took over the reins as creative director two years ago. "Raf Simons is a great artist. And he is very connected to all that is happening in the visual arts as well, which informs his clothes so much," she enthuses. Why does she think she's a Dior girl? "I'm comfortable in my skin."

Talking of skin, Natalie is known for her covetable complexion and she's already a devotee of Diorskin Star, a weightless foundation launching this September. What makes it unique? "I would say the feeling of flawless skin," she states of the first brightening foundation in the best-selling Diorskin range. "I don't feel it — it feels natural." For the actress, it's important for her makeup not to look too heavy. "I love to have a natural, but 'better than natural' look," she smiles, adding that it's important that the base is light and "fits your skin tone."

Besides the right foundation, what's her secret to perfect skin? "I wash my face every night and moisturise. And a Vegan diet!" she says of her fuss-free routine. "And then I splash water on my face and moisturise in the morning." Natalie's remedy for jet-lagged skin is similarly straightforward. "Lots of water and plenty of sleep," she says. "And I love kukicha tea to alkalise." It's hard to believe she gets pimples, but the strangest thing she's tried in the name of beauty is, "Toothpaste on spots. It only made them redder!" she laughs.

As well as being genetically blessed, she had a head start in the beauty stakes from a young age. Her first makeup memory is "when Jeanine Lobell [founder of Stila Cosmetics] taught me to do my own make-up for my prom." Natalie's brows have their own fan club — even Jake Gyllenhaal gushingly called them "amazing" — and the best beauty advice Natalie has ever been given is "not to over-pluck."

As a busy mother, time is precious. If she just has five minutes to beautify, she plumps for a little concealer and mascara. As well as Diorskin Star foundation, her other Dior beauty must-haves are Diorshow Iconic Overcurl Mascara and Dior Addict Lip Glow. But her hero product is Rouge Dior lipstick in the red shade — "it makes me feel like a different woman." Any tricks to keeping those enviable glossy tresses in tip-top condition? "I've been using David Mallett and Christophe Robin products," she offers. And yes, both these hair gurus are based in Paris!

After giving birth to son Aleph in June 2011, Natalie snapped back into shape pretty quickly. "I dance a lot with my friends and family, but no ballet," the 5ft 3in star says, adding that to keep fit, "I run and do Gyrotonics [a core-strengthening exercise that's been called 'yoga for dancers']." It certainly worked wonders as when she stepped out on the red carpet at the Academy Awards in February 2012, she flaunted a super-svelte post-pregnancy figure — as well as her most cherished gown. "I loved the vintage red Christian Dior dress I wore to the Oscars," she reflects, her face lighting up.

Ever since her Black Swan awards scoop, Natalie has obviously been hot property in Hollywood, but she still makes time for passion projects. She has made two films with director Terrence Malick and a Western by Gavin O'Connor called Jane Got a Gun, which will be released in 2015. "I'm also producing two documentaries — Eating Animals by Christopher Quinn, based on the Jonathan Safran Foer book, and The Seventh Fire by Jack Riccobono — about gangs in native American territory." But it's her directorial debut that she is most committed to. "The project I am directing right now, A Tale of Love and Darkness, is the most dear to me. It's been a passion of mine for seven years and I have put a lot of heart into it," she says of the drama about the Israeli Palestinian conflict.

For Natalie, it's important to make a difference in the world for the next generation — even more so since becoming a mother. What issues does she think need addressing the most urgently? "The environment and women's education are the biggest issues we face," she says thoughtfully. While her favourite destination in the world is the magical Big Sur in California, where she married Benjamin two years ago, her ideal holiday would be, "Rwanda, tracking gorillas." When asked to describe herself in three words, she replies, "Busy, lucky, curious." And if Natalie weren't an actress, she would be "a writer."

Here is a woman who has reached her happy place by following her heart — and this just happens to have brought her to Paris. While she loves exploring the city, her ultimate pleasure is simply "spending time with my family and friends." She adds: "I try not to make any other plas when I'm working, so as soon as I'm home, I can be with my family 100 per cent." And her favourite food to share with loved ones? "I love Middle Eastern food — couscous, hummus and salads," says Natalie, one half of France's new golden couple. When asked where she would like to be in ten years' time, she replies, "I would like to be happy and healthy, and enjoying my family." In the meantime, now that she's relocated, does she have any French movies in the pipeline? "I have one, but it's a secret," she grins. We can't wait for the next chapter of Natalie's beautiful Parisian life.