Argh, struggling to keep up with Rachel AWOL and work stacking up, so let's do a post that merges a bunch of items that could very well have made up their own posts.
– First up, Natalie was snapped filming a new Dior video in Paris on Tuesday. Based on this photo alone, I'm going to go out on a limb and say that this will be the best commercial ever made.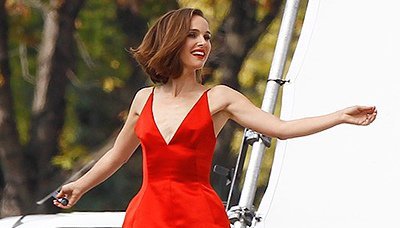 – From Paris Natalie will of course be heading to TIFF in Toronto and it sounds like as soon as TIFF is over she will be straight back to Paris to film Planetarium ('Le Soeurs Barlow') for Rebecca Zlotowski. According to the casting call, the film will shoot from mid-September through to mid-November.
– Finally, moon-walking back to the TIFF mention where Natalie will be premiering A Tale of Love and Darkness, a new review for the film has arrived from The Jerusalem Post and it's incredibly positive. They call the film "triumphant" and claim that Natalie gives her best ever performance.
Thanks to Amo, Belerofonte and Nina.